9 Most Important Vegan Pantry Staples for Athletes
*This article includes affiliate links. As an Amazon Associate, I earn from qualifying purchases.
If you are an athlete following a vegan diet plan, it is important to know what vegan pantry staples to keep on hand to fuel your workouts.
Stocking your pantry with the 9 items below can help ensure you have the right food available to support your training and performance needs.
What Exactly is a Vegan Diet?
Before diving into what items to stock in your pantry, let's take a look at what following a vegan diet involves.
An individual who adopts a vegan diet does not consume any animal-based or animal-derived products. This includes beef, chicken, turkey, pork, seafood, dairy products, eggs, and butter. Honey is also avoided by some individuals following a vegan diet (1).
Thus, athletes following a vegan diet get all of their nutrition from plant-based sources, including:
Grains
Beans and legumes
Nuts and seeds
Fruits and vegetables
It is important for athletes eating a vegan diet to carefully plan their meals to ensure all their nutrient needs are met from plant-based sources.
Top Vegan Pantry Staples for Athletes
Let's now take a look at 9 vegan pantry staples that athletes should keep on hand to help meet their sports nutrition needs.

#1 Quinoa
Quinoa is a type of seed that is packed full of nutritional benefits. Not only does quinoa contain dietary fiber, B vitamins, and minerals,it is also provides protein (2).
A 1-cup serving of cooked quinoa provides ~8 grams of protein and ~40 grams of carbohydrates (2). Quinoa contains all 9 essential amino acids that our bodies cannot produce. Thus, quinoa is a complete protein, making it an excellent addition to a vegan athlete's meal plan.
Since quinoa is a seed, it is naturally gluten-free (3). Quinoa can be a great way for athletes following a gluten-free diet to add both carbohydrates and protein to their meals.
If you are interested in preparing a new vegan quinoa recipe, try this Quinoa Salad with Black Beans and Corn recipe from the Academy of Nutrition and Dietetics.
Athletes can enjoy this recipe as a delicious entrée or side dish with their meal. If you like to meal prep, this recipe can easily be made in advance and packed to take with you for a quick grab-and-go lunch.
#2 Oatmeal
Oatmeal is another great item to keep on hand, as it makes for a nutritious breakfast. Oats are a whole grain carbohydrate containing soluble fiber, B vitamins, antioxidants, phosphorus, magnesium, iron, copper, and zinc (4).
Oatmeal comes in several varieties, including old-fashioned oats (rolled oats), steel cut oats, quick-cook oats, and instant oatmeal.
Old-fashioned oats are perfect for making your favorite overnight oats recipe. Overnight oats, prepared with a plant-based milk and yogurt, can make for a power-packed start to the day.
Although oats by themselves are vegan, be mindful that ingredients added into packaged oatmeal may not be fully plant-based. It is always best to read the ingredient label to ensure the product you are buying is vegan.
#3 Beans and Legumes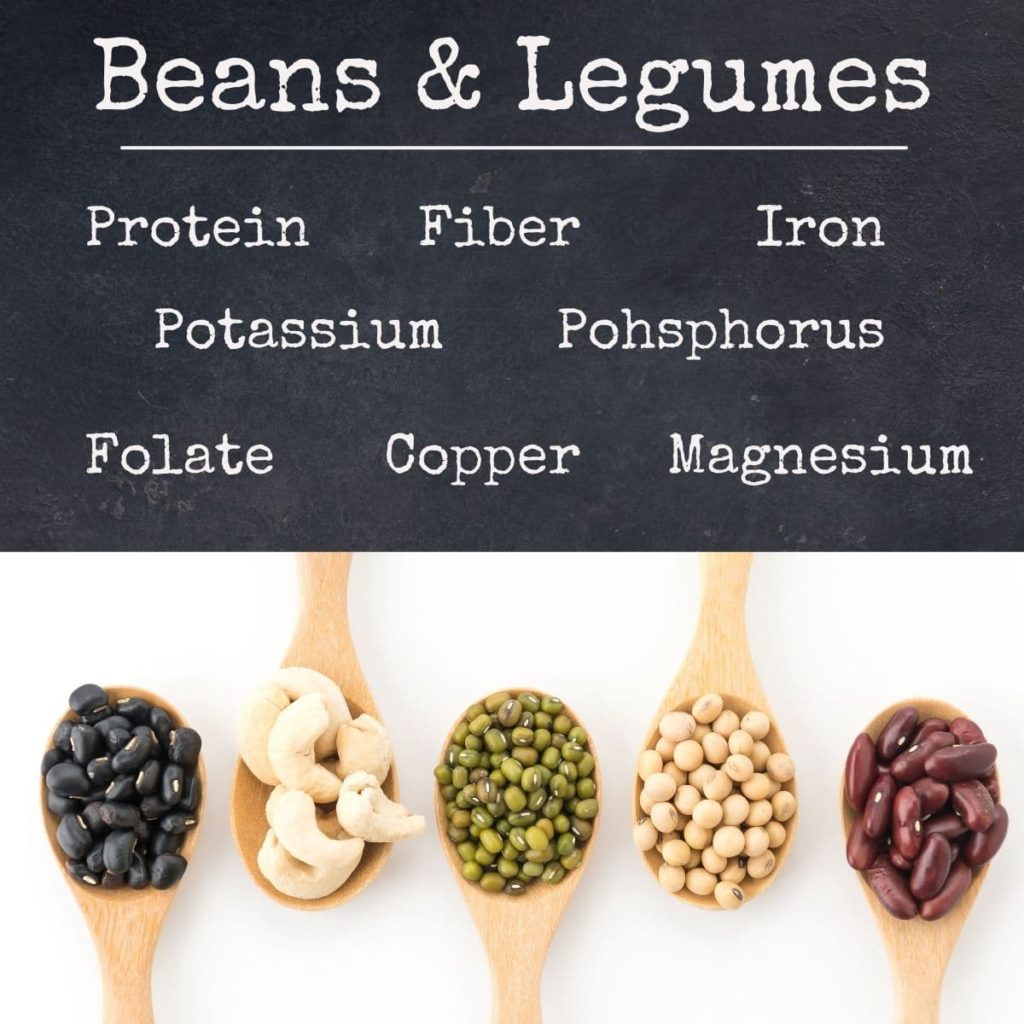 Beans and legumes should be a top pantry staple for vegan athletes. Beans and legumes provide many nutrients, including: protein, fiber, B-vitamins, potassium, iron, copper, phosphorus, magnesium, and antioxidants (5).
Athletes can easily add beans and legumes into vegan soups, chilis, and salads to increase the nutrient content of their meals.
Try adding a variety of beans and legumes to your sports nutrition meal plan, including:
Back beans
Kidney beans
Chickpeas
Black-eyed peas
Lima beans
Soybeans
Cannellini beans
When purchasing canned beans and legumes, make sure to carefully read the ingredient label on the can. Some canned beans and legumes include animal products, such as bacon and ham, in the preparation.
For a delicious soup packed with protein, fiber, and anti-inflammatory spices, try making this Split Pea and Farro Soup recipe from Dr. Sui-Nui Escobar, Registered Dietitian Nutritionist.
#4 Nut Butters
Keeping nut butters available in your pantry can come to the rescue for a quick meal or healthy snack on the go.
Nut butters contain healthy fats and protein, making them great for a sandwich or a topping on celery, apple slices, or whole grain crackers. Nut butters can also add extra nutrition and flavor when mixed into oatmeal or blended into a smoothie.
Athletes who have a nut allergy, can consider trying SunButter® products, which are prepared with sunflower seeds and are allergen free.
When purchasing nut butters, make sure to read the ingredient label to check for animal products. Some nut butters contain honey for added sweetness. Thus, you want to ensure the variety you buy only contains plant products.
For athletes working to gain weight on a vegan diet plan, nut butters can be a convenient way to add healthy calories to meals and snacks. However, if weight gain is not the goal, athletes should be mindful of portion size when enjoying nut butters.
#5 Chia and Flaxseeds: Nutrient-Dense Vegan Pantry Staples
Flaxseeds and chia seeds are nutrient-dense seeds that provide fiber, omega-3 fatty acids, protein, antioxidants, vitamins, and minerals (6). The seeds are versatile and can easily be added into your morning oatmeal, smoothies, and yogurt.
Flaxseeds are typically consumed ground, as it is easier for the body to digest and absorb the nutrients in the ground form. Ground flaxseeds can be added into baked goods such as breads, muffins, and pancake mix.
Chia seeds have a remarkable ability to absorb water. Chia seeds can be used as a vegan egg substitute and also are an ideal ingredient for smoothies and pudding.
Katie Dodd, MS, RDN, CSG, LD, FAND shares a High Calorie Vegan Breakfast Chia Pudding Parfait on her website that is definitely worth trying out.

#6 Chickpea Pasta
If you are a pasta lover, make sure you stock your pantry with chickpea pasta. This plant-based pasta is packed full of protein and also provides fiber, vitamins, and minerals.
A serving of Banza® chickpea pasta typically contains around 20 grams of protein, ~50% more protein than regular pasta. Topping chickpea pasta with marinara sauce and a variety of vegetables can make for a nutrient-dense meal.
When you purchase chickpea pasta, review the ingredient label to ensure you are buying a vegan product. Be aware that some plant-based pastas contain milk and eggs, so checking the label is important.
Banza® and Barilla® both have a variety of vegan chickpea pastas available.
#7 Vegan Bars
Buy some of your favorite vegan bars to keep stocked in the pantry. Bars are great to have ready for breakfast on-the-go, an afternoon snack, or to throw into your gym bag for a vegan pre-workout snack.
When you purchase vegan bars, look for products that are made with whole grains, contain a good source of plant-protein, and have limited limited saturated fat.
Some of my favorite vegan bars include:
#8 Breakfast Cereal
Keeping whole grain breakfast cereal available is a great option, not only for breakfast, but also to eat dry as a snack. Look for breakfast cereals made with whole grains, that provide a good source of dietary fiber, and that contain limited added sweeteners.
Nature's Path®, Barbara's®, and Kashi® all have vegan cereal options available. Read the ingredient list for any cereal you purchase to ensure no animal products, such as honey or milk, are ingredients in the cereal.
To make a nutritious trail mix, toss together your favorite dry breakfast cereal, nuts, seeds, and dried fruit. This is an easy way to make a balanced snack mix that athletes can enjoy throughout the day.
#9 Vegan Protein Pancake Mix
One final vegan pantry staple to keep on hand is protein pancake mix. Being able to whip up a quick batch of vegan pancakes makes for a nutritious breakfast, especially when topped with fresh fruit.
Kodiak Cakes® makes an excellent plant-based protein pancake and waffle mix. The mix is made with pea protein and provides 12 grams of protein per serving. Note: The mix is processed on shared equipment and may contain trace amounts of egg, milk, soy, and tree nuts.
Starting the day with vegan protein pancakes is a delicious way to enjoy a protein-rich, high-carb breakfast.
Pantry Organization and Storage of Vegan Pantry Staples
Now that you have an idea of what vegan items to stock in your pantry, it is important that you have a plan in place for how to store your food.
You should store dry goods, such as quinoa, rice, oatmeal, and cereal, in air-tight containers that will keep the items dry and free of moisture. Make sure to label the food storage containers with the food item it contains and the expiration or best-by date.
When selecting reusable storage containers, purchase items that are BPA-free and that can be easily cleaned betweenuse. This 28-piece pantry organization set (available on Amazon) includes BPA-free, airtight containers that are perfect for storing your vegan pantry staples.
Ready to Shop for Vegan Pantry Staples!
You are now set with a variety of ideas for vegan pantry staples for athletes. Stocking the pantry with these items can help ensure athletes have the right food available to support their training and performance needs.
For additional nutrition tips for plant-based athletes, check out my blog on high-protein vegan snacks for athletes.
Join the Nutrition By Mandy Email List & Get a Free Weekly Meal Planner Template
Click HERE to join the Nutrition By Mandy e-mail list. When you join you will receive a free weekly meal planner template to download and plan out your meals for the week.
About the Author
Mandy Tyler is a Sports Dietitian Nutritionist in the San Antonio, TX area. She is a Registered and Licensed Dietitian, a Board-Certified Specialist in Sports Dietetics, a Licensed Athletic Trainer, and is a Certified Exercise Physiologist through the American College of Sports Medicine. Mandy has experience working with athletes at the high school, collegiate, and professional levels. She believes the key to reaching one's full potential, both in everyday life and in sports performance, relies on a healthy nutritional foundation.