Best Gluten-Free Carbohydrates for Athletes
If you are an athlete with Celiac Disease, a sensitivity to gluten, or a wheat allergy, choosing gluten-free carbohydrates is important. Carbohydrates provide the energy needed for the body to perform at its best. Here are ideas for gluten-free carbohydrates that athletes can eat to help fuel their workouts and perform at their best.
What is Gluten?
Gluten is a naturally occurring protein found in wheat and other grains including barley, rye, and triticale (a grain made by crossing wheat and rye). Gluten helps provide texture, structure, and elasticity to food products. Given its unique characteristics, processed foods may have added gluten to help the product maintain form and enhance texture.
Gluten-Free Carbohydrate Options
There are numerous ways athletes following a gluten-free diet can meet their carbohydrate needs. Although it is common to think of wheat bread and pasta when one hears the word "carbohydrate," in actuality carbohydrates come from a variety of food groups. When planning your meals and snacks, focus on including a variety of items from each of the food groups to best meet your performance nutrition needs.
Fruit – Naturally a Gluten-Free Carbohydrate
A small, 4 oz piece of fresh fruit provides the body with ~15 grams of carbohydrates (similar carbohydrate content as 1 slice of bread). In general, most athletes consume a larger serving size than a 4-oz piece of fruit. For example, a large banana contains ~30 grams of carbohydrates. Adding a piece of fruit to your breakfast or pre-workout snack can be a great way to add carbohydrates to your day.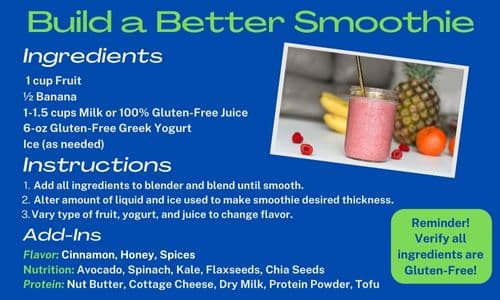 Dried fruit is another easy way to boost your carbohydrate intake. A quarter-cup serving of dried fruit provides you with ~15 grams of carbohydrates. In addition to carbohydrates, dried fruit contains fiber, phytochemicals, vitamins, and minerals. Dried fruit, such as raisins, cranberries, pineapple, and mango, makes a nutritious addition to your salads, gluten-free breakfast cereals, and trail mix.
Fresh fruit is an excellent gluten-free carbohydrate choice for athletes. Fruit contains the sugar fructose and is naturally gluten-free. In addition to carbohydrates, fruit contains fiber, vitamins, minerals, phytochemicals, and antioxidants.
A fruit smoothie can be a great high-carbohydrate, gluten-free item to add to your diet. A fruit smoothie can be a great breakfast on-the-go, post-workout shake, or afternoon snack. Add a variety of frozen fruits and banana slices to make a high-carbohydrate smoothie that will help keep your body fueled all day long.
Review the ingredient labels and packaging on all dried, canned, and frozen fruit to ensure to make sure no gluten-containing sweeteners or additives were used in the product.
Starchy Vegetables, Beans, and Legumes
Similar to fruit, fresh vegetables are naturally gluten-free. Starchy vegetables are a great way to add carbohydrates to your diet along with fiber, vitamins, and minerals. In general, a ½ cup serving of starchy vegetables provides ~15 grams of carbohydrates. Consider making the items below a routine part of your performance diet.
Potatoes and Sweet Potatoes
Beans, Peas, and Legumes – Check the ingredient label and package on canned beans and legumes to ensure no gluten-coning ingredients are added.
Winter Squash Varieties – Butternut, Acorn, Pumpkin
Corn – Whole kernel corn is naturally gluten-free. In addition, gluten-free products commonly use corn flour as an ingredient in place of wheat. Double-check the ingredient label of items such as corn tortillas and cornbread to ensure wheat flour was not added to the product. Many processed items contain a mixture of grains, so make sure the item you purchase is truly gluten-free.
Review the ingredient labels and packaging on all canned and frozen vegetables to ensure no ingredients, seasonings, or sauces were used that contain gluten.
Gluten-Free Grains
Athletes on gluten-free diets may be wondering what type of grain items are safe to eat. Below are grains that are gluten-free in their natural form. Be aware that many times wheat, barley, and rye are grown and harvested alongside the grains listed below. Cross-contamination with gluten is a possibility during this process. For this reason, purchasing items that are labeled and certified as gluten-free is recommended.
Rice – Plain, natural rice is an excellent gluten-free grain choice for athletes. Individuals on a gluten-free diet can enjoy a wide variety of types of rice, including: brown rice, white rice, Asian "sticky" rice, and wild rice.
Athletes should use caution with packaged rice mixes. The mix may have Ingredients containing gluten added to enhance the flavor or texture. Read the ingredient label and package carefully to ensure the product you are purchasing is gluten-free.
Oats – Although oats are gluten-free grains, oats are considered high-risk for cross-contamination with wheat, barley, and rye during harvest and processing.  The Celiac Disease Foundation recommends individuals on a gluten-free diet only purchase oat products specifically labeled as being gluten-free. In addition, athletes should visit with their doctor and dietitian prior to adding oats to their gluten-free diet.
Similar to quinoa and rice mixes, use caution with packaged oatmeal and hot breakfast cereals. These items may contain ingredients with gluten so read the labels carefully. If you enjoy oatmeal or granola for breakfast, Bob's Red Mill®, Purely Elizabeth®, and Bakery on Main® have a variety of gluten-free options available.
Quinoa – Quinoa is a type of seed; thus, it is an excellent gluten-free carbohydrate option. A cup of cooked quinoa contains ~40 grams of carbohydrates. Quinoa is also a complete protein, containing all 9 essential amino acids. Athletes looking for a gluten-free option to boost the nutritional quality of their meals should try adding in quinoa
Due to the risk of cross-contamination with other grains, individuals should purchase quinoa products that are certified or labeled gluten-free.
Pasta – Athletes following gluten-free diets need to avoid traditional pastas made with wheat flour. However, there are numerous other varieties of gluten-free pastas that athletes can enjoy. Consider trying rice noodles, pastas made with legumes or chickpeas, or gluten-free noodles made with rice, corn, or quinoa.
Breakfast Cereal – Gluten-free breakfast cereals made with corn or rice can be a great way for athletes to add carbohydrates to their breakfast. Make sure to read the ingredient label and package carefully to ensure no added ingredients contain gluten. Nature's Path®, Barbara's®, and ChexTM have a variety of gluten-free cereals available.
For a quick and easy snack idea try making your own trail mix. Mix together your favorite gluten-free breakfast cereals, a variety of nuts, and dried fruit. Pack the mix into individual size serving bags and you have a healthy snack ready for on-the-go.

Milk and Yogurt
When considering ways to add gluten-free carbohydrates to your diet, don't forget about milk. A cup of plain, cow's milk contains 12 grams of carbohydrates along with protein, calcium, and Vitamin D. Drinking milk with your daily meals, adding it to your smoothies, and enjoying milk with your cereal can help boost your daily carbohydrate intake.
Although plain, cow's milk is gluten free, be aware that not all flavored milks and dairy products are. Make sure to review the ingredient label and packaging on all milk and dairy products to ensure no added ingredients contain gluten.
Yogurt also contains carbohydrates. A 6-oz serving of plain, fat-free regular yogurt contains ~12 grams of carbohydrates. Greek yogurt tends to be lower in carbohydrates than regular yogurt, containing 6-8 grams of carbohydrates per 6 oz. Although lower in carbohydrates, Greek yogurt typically has twice as much protein as regular yogurt. Topping Greek yogurt with fresh fruit and gluten-free cereal can make for an excellent high-carbohydrate, high-protein snack.
Keep in mind, many yogurts are sweetened with fruit, honey, and other added ingredients. Use caution as the added ingredients may contain gluten. Similar to flavored milk, read ingredient labels and packages carefully to ensure the yogurt you are purchasing is gluten-free.
Fuel Your Workouts with Gluten-Free Carbohydrates
You now have an idea of the many gluten-free carbohydrate options athletes can use to fuel their workouts and every day activities. Choosing carbohydrates that are low in fiber before and during activity is recommended. In addition, athletes should practice their fueling strategy prior to competition to determine what foods and beverages work best for them.
As an athlete on a gluten-free diet, you can move forward with confidence knowing you can meet your carbohydrate needs. Remember when shopping to be diligent with reading ingredient labels and food packages to verify items are gluten-free. Also, take time to plan ahead to ensure you have gluten-free snacks available to help you train and perform at your best.
For a customized sports nutrition meal plan meet with a Registered Dietitian to help develop a performance diet to meet your specific needs. For further information on Celiac Disease and gluten-free diets, visit the Celiac Disease Foundation® website.