Whether you are looking for nutrition presentations for your team, individualized sports nutrition consulting, or general guidance on a healthy eating plan, Mandy can customize her sports nutrition services to meet your needs.
---
Nutrition & Wellness Presentations
Mandy can customize nutrition presentations to meet the specific needs of your sports team, athletics booster club, coaches, child nutrition, or employee wellness program. Common presentation topics are listed below.
Sports Nutrition 101 – Keys to Sports Nutrition Success
Sports Supplements – What You Need to Know
Nutrition to Support Immune Health and Injury Recovery
A Healthier You – Nutrition and Activity for Everyday Health
Team Building Strategies
Great session! Very fun with good information that I can take and use. One of the most valuable learning experiences I have had in a long time!"

– Participant in A Healthier You session.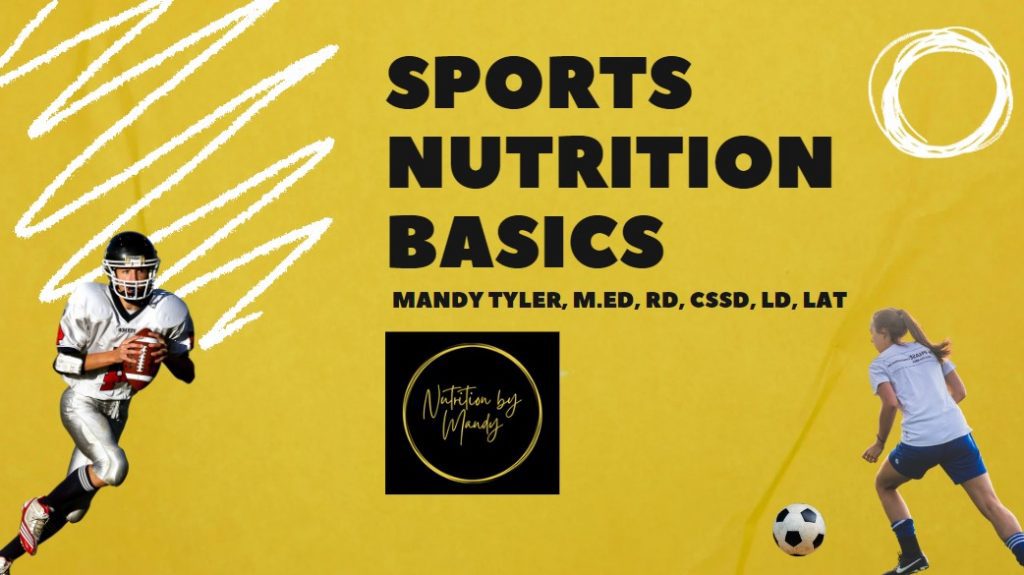 ---
Nutrition Consulting
Due to the ongoing concerns with COVID-19, Mandy is conducting all nutrition consulting sessions virtually utilizing the HIPPA compliant telehealth service DoxyMe.
Initial Session

During the initial session we will review your typical dietary intake and exercise patterns, discuss nutrition related questions you have, and set individualized goals to help you improve nutrition intake.

Mandy believes that setting small achievable goals helps build a strong nutrition foundation that can be built upon.

Initial sessions typically last 90 minutes in length. Completing the food log prior to your session helps facilitate the conversation.
Follow-Up Session

During the follow-up session we will review progress made towards the nutrition goals that were set, discuss obstacles encountered, and set new goals to help you continue making progress towards improving your dietary intake.

Follow-Up sessions typically last 30 minutes in length.
---
Nutrition Forms
Prior to meeting with Mandy it is recommended to keep a food log for at least 4 days – including 3 weekdays and 1 weekend day. This will allow Mandy to get a better picture of your daily routine and eating habits.