Meal Prep for Athletes – 5 Easy Steps to Success
*This article includes affiliate links. As an Amazon Associate, I earn from qualifying purchases.
With busy practice, strength training, and school schedules, planning and preparing meals to keep athletes fueled throughout the day can be a struggle. As an athlete, taking time to meal prep can be a strategy you use to overcome these challenges. 
Benefits of Meal Prep for Athletes
There are many benefits to meal prep for athletes. Meal prep can save you time and money, decrease food waste, and help you eat a diet that meets your sports nutrition needs.    
Saving Athletes Time with Meal Prep
One advantage of meal prep is that it can save you time on busy weekdays. Scheduling time in advance to prepare meals and snacks allows you to get all the cooking and cleaning done at once. 
For example, preparing a large batch of rice on the weekend reduces the repeated efforts of boiling water, cooking the rice, and washing dishes during the week. Prepare the rice once and enjoy it as a side dish all week long.
Taking the time to plan your meals and snacks in advance can also reduce the need to make multiple trips to the store during the week. If you plan out what you need, you can ensure you get all your groceries in one trip.
Saving Athletes Money with Meal Prep
Taking time to meal prep can also assist athletes with saving money at the store. Purchasing a larger quantity or package size at the store can help reduce overall food costs by decreasing the per unit cost of an item. 
For example, buying a 3-lb package of ground turkey is less expensive per pound than buying one pound. Overtime these savings can add up, especially when applied to multiple items that you purchase.
Meal prep can also help reduce food waste. With meal prep you will have a better idea of the food items and quantities needed for the week.
Helping Athletes Meet their Sports Nutrition Needs
One of the benefits of meal prep is that you have control over the recipes and ingredients you purchase for your meals. By choosing leaner cuts of meat, seafood, whole grains, beans, and a variety of fruits and vegetables you can ensure your meals are packed full of nutrition. 
Having healthy, well-balanced meals planned and prepared in advance can also help reduce the number of times you eat meals out during the week. This will not only improve the nutritional quality of your meals, but also save you money from eating out.

Getting Started with Meal Prep for Athletes
Meal prep does not have to be complicated to be effective. Even taking small steps to prep meals in advance can have a beneficial impact on time management, food costs, and the nutritional quality of meals.  
Easy meal prep strategies include:
Doubling the recipe when you are preparing favorite meals. Freeze half of what you prepare to enjoy for a meal in the upcoming weeks. You can also double the quantity of a single ingredient that can be used for multiple meals. For example – cook several pounds of lean ground beef to be used with spaghetti, taco salad, and chili during the week.
Preparing select ingredients needed for meals and snacks throughout the week. Examples include:

Cooking meat
Hard-boiling eggs

Preparing quinoa, rice, and pasta
Choosing a specific meal or snack on which to focus your meal prep efforts. Perhaps you find that you frequently skip breakfast after a morning workout. Invest time on the weekend to meal prep healthy breakfasts, such as overnight oats, to have ready-to-go.
Whether you decide to prep all your meals and snack in advance or just take a few simple steps – know you are setting yourself up for success.
Step 1: Review Your Schedule
The first step to meal prep for athletes is to review their schedules for the upcoming week. Consider what time of day your practices, strength training sessions, games, classes, and study halls occur. Identify any commitments you have during the week that will interfere with meal times. 
Based on the review of your schedule, determine what meals and snacks you want to focus your meal preparation efforts on. Identify when during the week you will have time to grocery shop and meal prep. Make sure to block these times off on your calendar.
Step 2: Make a Grocery List
Once you have an idea of your schedule for the week, consider what recipes you plan to make. Choose a couple of well-balanced meals to focus on each week. Remember to also plan for healthy snacks, as well as what you will eat both before and after your workouts.
As you make your grocery list, determine if you will double any recipes and make sure to plan for ingredient needs accordingly. To avoid missing any items at the store, organize your list according to the store layout. 
If you need grocery ideas, here is a free athlete's grocery list that you can download, print, and take with you to the store.
Step 3: Shop for the Week
When you have your list in place, it is time to grocery shop. As you shop, consider the following strategies to save money:
Buy fresh produce that is in-season. When produce is in-season it is more flavorful and less expensive than out-of-season produce. The United States Department of Agriculture has a Seasonal Produce Guide that is a helpful reference for determining what fruits are grown each season.
Frozen fruits and vegetables are a great option for out-of-season produce. Frozen produce is flash-frozen at the peak of ripeness; thus, it maintains its nutrient content.
Buy whole fruits and vegetables and cut the items yourself. For example, purchasing a whole watermelon will cost quite a bit less than purchasing pre-chopped watermelon chunks.
Make sure to take your list with you when you go to the store. Having a list is a great way to avoid impulse purchases as you shop for the week.
Step 4: Time to Meal Prep
Once you are home from the store, it is time to begin the actual meal prep process. Based on your plans for the week, prep your ingredients, chop your fruits and vegetables, and prepare the recipes you intended. 
Food safety is critical as you move through the meal prep process. Properly wash your hands prior to getting started in the kitchen. Wash produce before cutting it for snacks or for use as an ingredient in recipes.
Use caution to avoid cross-contamination in the kitchen between uncooked meats and raw fruits and vegetables. Cook all beef, pork, poultry, and seafood to the correct minimum internal temperatures.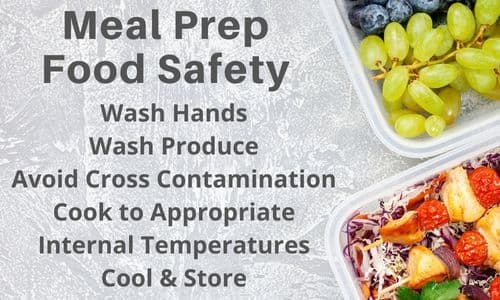 Step 5: Store Your Meals and Snacks
After you have your meals and snacks prepped, make sure to store the items appropriately. Prepared foods need to be cooled and refrigerated promptly. 
When selecting reusable storage containers, purchase items that are BPA-free. Also make sure the containers are both microwave and dishwasher safe.  Check out this 15-pack of meal prep containers (available on Amazon) that are BPA free, as well as microwave, dishwasher, and freezer safe.
As you fill your food storage containers, label them with both the content of the container and the date the item was prepared. Utilize the Cold Food Storage Chart from the U.S. Department of Health and Human Services for guidelines on how long food can be stored in the refrigerator and freezer.
Ready for Athlete Meal Prep Success
As a busy athlete, you now have the tools in place to start with meal prep. By following these 5 easy steps you can save time and money, and ensure you have the meals and snacks needed to support your performance goals.
For additional suggestions on ways to meet your performance nutrition needs visit with a sports dietitian nutritionist who can work with you on developing a customized sports nutrition meal plan. 
Join the Nutrition By Mandy Email List & Get a Free Weekly Meal Planner Template
Click HERE to join the Nutrition By Mandy e-mail list. When you join you will receive a free weekly meal planner template to download and plan out your meals for the week.
About the Author
Mandy is a Sports Dietitian Nutritionist in the San Antonio, TX area. She is a Registered and Licensed Dietitian, a Board-Certified Specialist in Sports Dietetics, a Licensed Athletic Trainer, and is a Certified Exercise Physiologist through the American College of Sports Medicine. Mandy has experience working with athletes at the high school, collegiate, and professional levels. She believes the key to reaching one's full potential, both in everyday life and in sports performance, relies on a healthy nutritional foundation. Learn more about the work Mandy does here.