Healthy Snacks for Teenage Athletes
One common reality of teenage athletes is that they are busy. Between school, homework, practice, strength training, games, and weekend tournaments there is limited time available to consider what and when to eat.
Yet we know that with all the activities teenage athletes are involved in, having a plan for meeting their nutrition needs is important. Including healthy snacks in a teenage athlete's meal plan can help fuel their activity and support their health and well-being.
5 Healthy Snack Tips for Teenage Athletes
Let's take a look at five tips for helping teenage athletes include healthy snacks in their day.
Tip 1: Make Healthy Snacks Easy
On the weekend take time to plan ahead for the week and meal prep snacks. Having easy, healthy snacks available for your teenager to grab on the way out the door can set your athlete up for sports nutrition success.
Consider the following meal prep tasks that can be done ahead of time:
Prepackage individual bags of trail mix, pretzels, snack crackers, or nuts
Hard-boil eggs
Wash and chop fresh fruits and vegetables
Pack individual containers of hummus or nut butter
Consider creating snack baskets in your fridge and pantry where your teenage athlete can grab several healthy snacks as they leave home for the day.

Tip 2: Make Snacks A Combo
When planning healthy, balanced snacks for your teenage athlete, aim to combine a food providing a lean source of protein with a food that provides a good source of carbohydrates. The protein from the snack will support teen athletes with the building and maintaining of lean muscle mass. The carbohydrates will provide teenagers with energy for their daily activities.
Healthy Snack Combos for Teenage Athletes
Here are some of my favorite healthy snack combos:
Oats & honey crunchy granola bars with peanut butter
String cheese with whole grain crackers
Hummus with pita chips
Graham crackers with almond butter
Hard-boiled eggs with breakfast bars
Almonds with apples
Turkey wrap (turkey, cheese, whole wheat tortilla)
Peanut butter & jelly on honey wheat bread (can't go wrong with this classic!)
Tip 3: Pack Your Snacks
I find teenage athletes often skip snacking simply because they do not have food available. Packing snacks in advance in multiple locations can help ensure your teenager has a healthy snack available when needed.
Encourage your teenage athlete to think about all the different locations they can pack healthy snacks to have available when needed. Here are some ideas:
Backpack – Throw in a bag of trail mix
School locker – Keep granola bars on hand
Gym bag – Sports drink and peanut butter crackers
Glovebox of Car – Have a bag of pretzels or animal crackers for snacking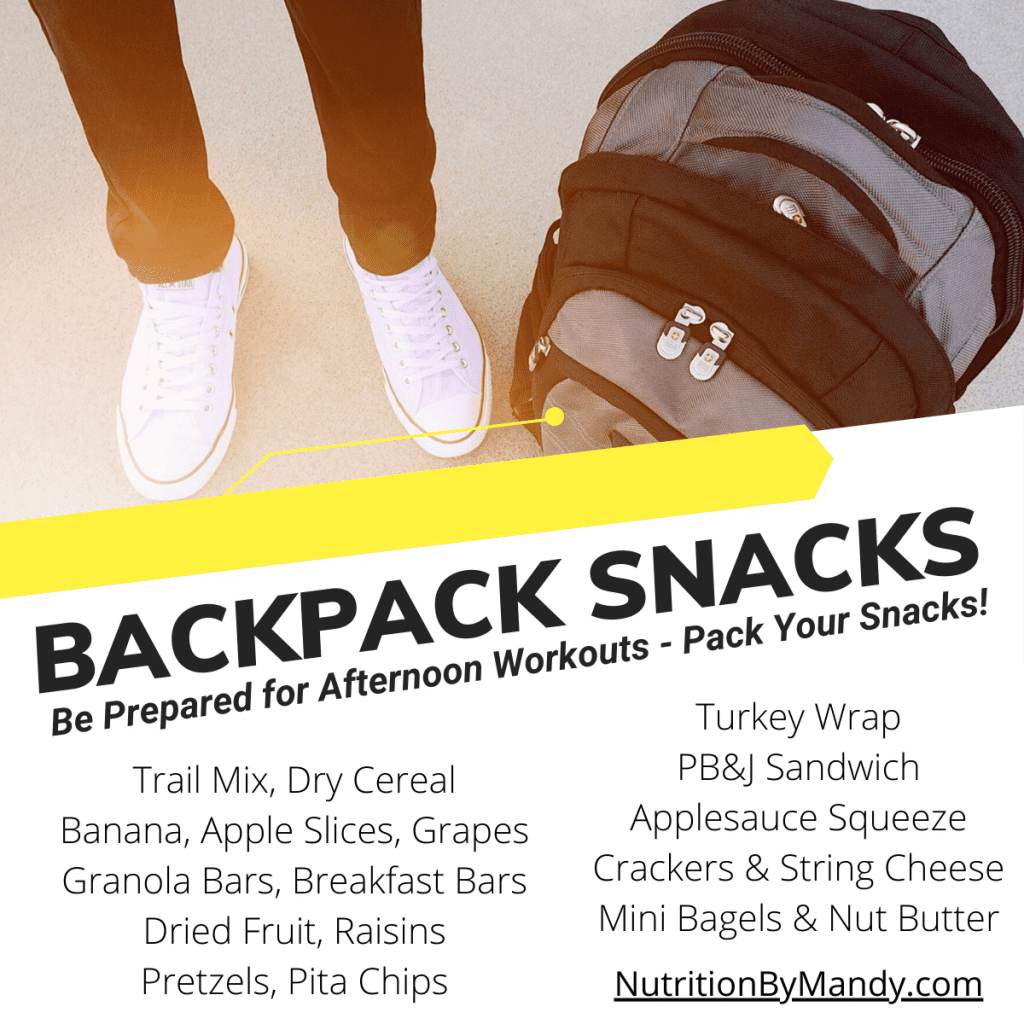 Tip 4: Hydrate with Snacks
Hydration is an essential part of a teenage athlete's sports nutrition meal plan. Dehydration can negatively impact their health as well as sports performance.Teenage athletes should aim to include nutritious beverages with their snacks to help with meeting their daily hydration needs.
Ideas for drinks that teenage athletes can enjoy with their snacks include:
Infused Water with Healthy Snacks
Infused water can be another great option for teenage athletes to enjoy with their snacks. This can be as simple as adding cucumber slices or strawberries to a water bottle at the beginning of the day. As the athlete refills their water bottle throughout the day the water will continue to have a refreshing flavor.
For a variety of infused water ideas, check out the blog from Kathryn Piper, Registered Dietitian Nutritionist, on The Refreshing Benefits of Infused Water with Fruit.

Tip 5: Support Recovery Nutrition with Healthy Snacks
Following a workout, make sure your teenage athlete is equipped with snacks that can support their recovery nutrition needs. Following a workout, athletes should focus on consuming the following:
Fluid and Electrolytes: Rehydrate to replace fluid and electrolytes lost in sweat
Carbohydrates: Refill energy stores (glycogen stores) used during the activity
Protein: Build and repair muscles
If it will be several hours until the next meal, teenage athletes should eat a post-workout snack following their practice. This is especially important for teenage athletes following a morning practice at school. Consuming a post-workout snack can support both their recovery nutrition needs and provide them with energy for the upcoming school day.
Healthy Post-Workout Snacks for Teenage Athletes
Quick and easy snacks athletes can enjoy following a workout include:
Trail mix with pretzels, dried fruit, nuts, and dry cereal with sports drink
Low-fat chocolate milk and granola bars
Peanut butter and jelly sandwich with low-fat milk
Greek yogurt, berries, and granola
Sliced cheese, ham, and whole grain crackers with low-fat milk
Bagel with nut butter, honey, and banana slices
Sports bar with sports drink
Healthy Snacks for Teenage Athletes: Focus on Consistency
The importance of consistency is a key concept I often share with teenage athletes. Making healthy snacks a consistent part of their sports nutrition plan can help fill gaps in their diet and support their overall sports nutrition goals.
For additional suggestions on ways to help your teenage athlete meet their performance nutrition needs visit with a sports dietitian nutritionist.  The dietitian can work with your teen on developing a customized sports nutrition meal plan to support optimal performance.
Check out my blog, Nutrition Tips for Afterschool Sports, to get additional ideas on supporting the nutrition needs of teenage athletes.
Join the Nutrition By Mandy Email List & Get a Free Athlete's Grocery List
Click HERE to join the Nutrition By Mandy e-mail list. When you join you will receive a free athlete's grocery list to print and take with you to the store.
About the Author
Mandy is a Sports Dietitian Nutritionist in the San Antonio, TX area. She is a Registered and Licensed Dietitian, a Board-Certified Specialist in Sports Dietetics, a Licensed Athletic Trainer, and is a Certified Exercise Physiologist through the American College of Sports Medicine.  Mandy has experience working with athletes at the high school, collegiate, and professional levels. She believes the key to reaching one's full potential, both in everyday life and in sports performance, relies on a healthy nutritional foundation. Learn more about the work Mandy does here.