Nutrition Tips for Afterschool Sports
If you have a child or teen athlete involved in afterschool sports, you know how busy weeknights can be. Having a nutrition plan in place for afterschool sports activities can ensure your athlete is fueled to perform at his or her best.
Plan Ahead for the Week
Take time on the weekend to review the schedule for the upcoming week. Identify when your athlete has afterschool sports practices and games. If your athlete participates in club sports or private lessons, make sure to also include these on the schedule for the week.
Once you know the schedule for the week, a nutrition plan can be put in place to support each day's afterschool sports activities.  Choosing the best snack for afterschool sports will depend upon how much time your athlete has prior to the practice session or competition.

Afterschool Sports: Practices
Many athletes head straight to afterschool sports practices as soon as the bell rings at the end of the school day. This leaves little time for athletes to grab a snack prior to the practice. Since it may have been several hours since lunch, having a pre-workout snack is important to provide energy for the afternoon sports workouts.
Athletes should pack snacks that can be easily eaten while walking from class to practice. The snack should contain a good source of carbohydrates, which will provide the body with energy needed during the upcoming practice. Here are several ideas for great pre-practice snacks that contain carbohydrates.
Banana, orange wedges, apple slices, grapes
Applesauce squeeze pouch
Dried fruit – raisins, cranberries, apples, pineapple, mango
Granola bars, fig bars, breakfast bars
Mini bagels, dry cereal
Pretzels, pita chips, snack crackers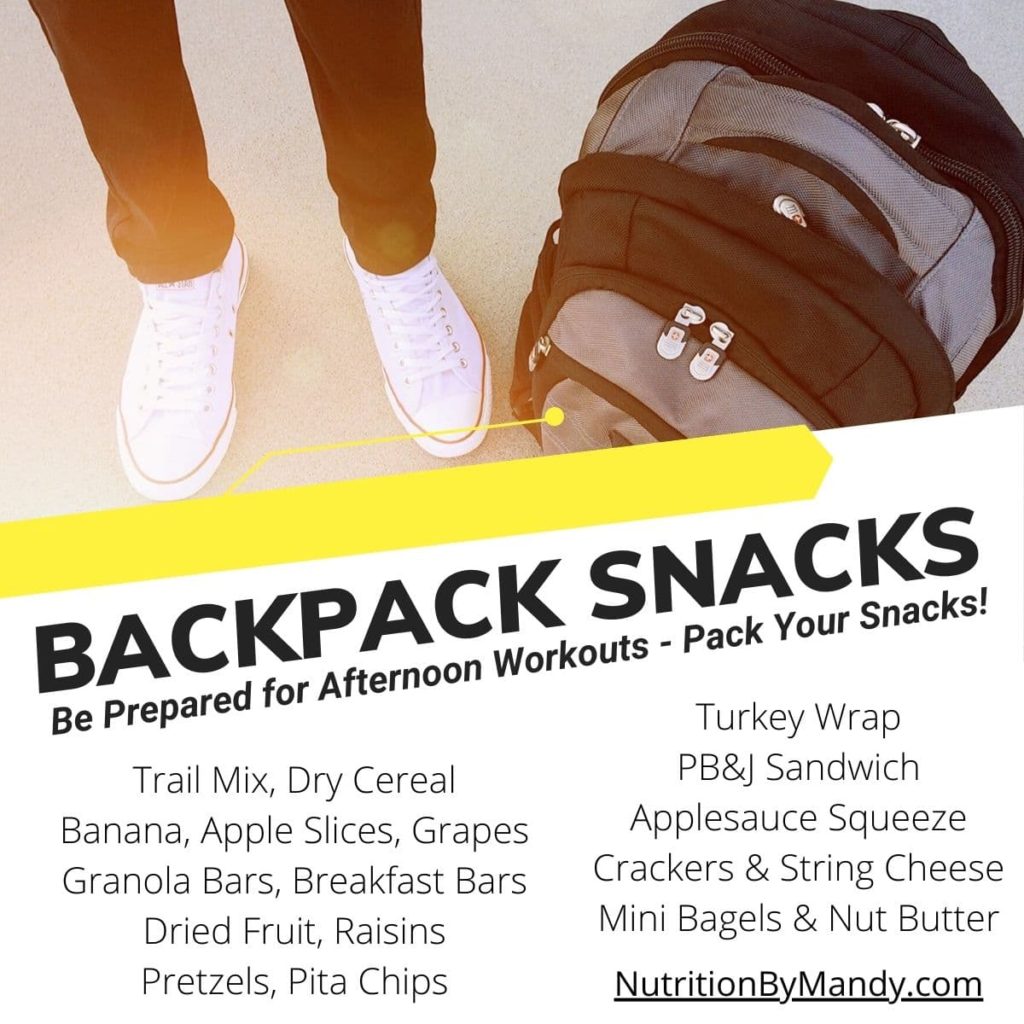 Afterschool Sports: Games
On game days athletes typically have more time afterschool before the start of the activity. When athletes have a couple of hours prior to competition it is important they take advantage of the extra time to fuel.
Athletes still want to focus on carbohydrate-rich foods, but they can also add in some lean protein as well to help with satiety. This afterschool "mini meal" will help ensure athletes are fueled for competition.
Peanut butter and jelly sandwich with apple slices
Bagel with turkey and low-fat cheese
Crunchy granola bars with nut butter and sports drink (my favorite!)
Sports bar with a banana
If you need ideas for fueling once the game gets started, check-out my recent blog: Planning the Best Halftime Snacks for Athletes.
Afterschool Sports: Hydration
Remind your athlete not to neglect the importance of hydration with afterschool sports practices and games. Dehydration can negatively impact sports performance and increase the risk of heat illness1.
Encourage your athlete to carry a refillable water bottle throughout the day. Sipping on water during the day will help ensure your athlete starts practice in a hydrated state. Prior to the start of afterschool sports practices remind your athlete to refill the water bottle so it is ready for the workout session.
Although hydration needs vary greatly for athletes a general rule of thumb is to aim to drink ~3-8 ounces of fluid every 15-20 minutes of activity2.  Drinking a big gulp of water or sports drink is equivalent to approximately 1 ounce of fluid.  Therefore, athletes should aim for several big gulps from their water bottle each water break. 

Afterschool Sports: Water vs. Sports Drink
Confusion often arises with regard to whether an athlete should be drinking water or a sports drink during activity. A sports drink is formulated to contain carbohydrates and electrolytes. When consumed during activity, the carbohydrates in the sports drink provide energy for the working muscles. The fluid and electrolytes help replace sweat losses1.
When athletes will be participating in 60 minutes or more of intense activity, they should consider a sports drink for hydration2. A sports drink can also be beneficial when exercising in hot and humid environments to help replace the fluid and electrolytes lost in sweat.
Afterschool Sports: Recovery Nutrition
Athletes often place a lot of focus on what to eat before a competition and give less though to what to eat after. However, recovery nutrition is an important part of an athlete's sports nutrition plan, especially when there is limited time prior to the next activity.
When teen athletes are participating in both school and club sports it is critical they don't miss a chance to fuel their bodies. Having a post-workout snack in the car as you head from school practice to club sports can help ensure your athlete has the fuel needed for the second round of activities.
Recovery Nutrition Goals
The three goals of recovery nutrition are to consume the following:
Fluid and electrolytes – rehydrate to replace sweat losses
Carbohydrates – refill the energy (carbohydrate) stores used during the activity
Protein – build and repair lean muscle mass

Post-Workout Snacks
If it will be several hours prior to the next meal, athletes should consume a post-workout snack following their workout session. Quick and easy snacks athletes can enjoy after a workout include:
Trail mix with pretzels, dried fruit, nuts, and dry cereal with sports drink
Low-fat chocolate milk and granola bars
Peanut butter and jelly sandwich with low-fat milk
Greek yogurt, berries, and granola
Sliced cheese, ham, and whole grain crackers
Turkey and cheese wrap
Pita chips with hummus
Bagel with nut butter, honey, and banana slices
Sports bar with sports drink
Post-Workout Meal
When athletes get home for the day, they can further support their recovery nutrition needs by eating a well-balanced meal. Ideas for post-workout meals include:
Turkey sub sandwich, pretzels, fresh fruit cup, low-fat milk
Burrito bowl with rice, chicken, black beans, corn salsa, guacamole and a sports drink
Grilled salmon, sweet potato, steamed broccoli, dinner rolls, and 100% fruit juice
Pasta with lean meat sauce, salad, breadsticks, low-fat milk
Being prepared with the right pre- and post-workout snacks can help set your athlete up for success with afterschool sports activities. Have your athlete experiment during practice with different snack combinations to see what works best for him/her.
Nutrition Plan for Afterschool Sports
You are now set with a variety of nutrition strategies to help fuel your athlete for afterschool sports activities.  If you are looking for additional sports nutrition tips to support your athlete's nutrition needs, check-out my recent blog: 5 Keys to Building the Ideal Athlete Meal Plan.
Click HERE to sign-up for the Nutrition By Mandy e-mail list.
About the Author
Mandy is a Sports Dietitian Nutritionist in the San Antonio, TX area. She is a Registered and Licensed Dietitian, a Board-Certified Specialist in Sports Dietetics, a Licensed Athletic Trainer, and is a Certified Exercise Physiologist through the American College of Sports Medicine. Mandy believes the key to reaching one's full potential, both in everyday life and in sports performance, relies on a healthy nutritional foundation. Learn more about the work Mandy does here.
References
American College of Sports Medicine, Sawka, M. N., Burke, L. M., Eichner, E. R., Maughan, R. J., Montain, S. J., & Stachenfeld, N. S. (2007). American College of Sports Medicine position stand. Exercise and fluid replacement. Medicine and science in sports and exercise, 39(2), 377–390. https://doi.org/10.1249/mss.0b013e31802ca597
(2022). Sportsrd.org. https://www.sportsrd.org/wp-content/uploads/2016/01/Hydration-Screen-Shot-.png