11 Healthy College Dorm Foods for Athletes
As athletes head back to school, it is important they are equipped with ideas of what college dorm foods to keep available for healthy meals and snacks.  Having nutritious foods available can help set an athlete up for sports nutrition success.  Here are 11 healthy college dorm foods for athletes to consider keeping stocked in their rooms this school year.
#1 Oatmeal
Oatmeal is a great college dorm room food to keep on hand. Oatmeal is a whole grain providing carbohydrates and soluble fiber. It also contains antioxidants, B Vitamins, phosphorus, magnesium, iron, coper, and zinc.
Keeping instant oatmeal on hand is great for a quick breakfast on the way out the door. Mix in nut butter, dried fruit, and sliced banana for added flavor and nutrition.
To boost the protein content, make the oatmeal with an ultra-filtered milk such as Fairlife®. Ultra-filtered milk has 50% more protein than regular milk and is lactose free.
Also consider trying Kodiak Cakes® oatmeal packets. Each packet contains 12 grams of protein and ~30 grams of carbohydrate per serving. Definitely a power-packed way to start the day.
Overnight oats are a perfect college dorm food, as they can be prepared the night before. This can save you valuable time in the morning. Overnight oats are best when prepared with old-fashioned oats rather than instant oatmeal. You can increase the protein content by making them with Greek yogurt and ultra-filtered milk. Mix in a variety of fruits, nuts, and seeds for added flavor and nutrition.

#2 Nut Butter
Nut butters are great to keep on hand for a quick meal or snack on the go. Nut butters contain healthy fats and protein, making them a good addition to your sports nutrition meal plan. If you have a nut allergy, consider trying SunButter® products, which are allergen free.
Nut butters make a great spread for sandwiches, are delicious stirred into oatmeal, and are a perfect topping for apple slices, celery, and whole grain crackers.
#3 Greek Yogurt
Greek yogurt is an easy way to add protein to your daily routine and a great college dorm food. It contains ~21 grams of protein per cup, while regular yogurt has ~7 grams of protein.
Greek yogurt can be a great addition to breakfast, a nutritious afternoon snack, or included with your post-workout meal. Try topping your yogurt with frozen berries, sliced nuts, chia seeds, and whole grain cereal to make a healthy and delicious parfait.
#4 Fruit
Fresh Fruit
When it comes to fresh fruit, make sure to only purchase the quantity you can consume before it goes bad. In addition, buying fresh fruit that is in-season will be less expensive and more flavorful than out-of-season produce. Bananas, mandarin oranges, and apples are all fruits you can easily throw into your bag for a healthy snack between classes.
Dried Fruit
Dried fruit provides a condensed source of carbohydrates with ~15 grams of carbohydrates per ¼ cup serving. It also contains vitamins, minerals, phytochemicals, and fiber. Enjoy a variety of dried fruits, such as: raisins, dried cranberries, apples, pineapple, and mango. For added nutrition, try mixing dried fruit into your oatmeal, breakfast cereal, and trail mix.
Frozen Fruit
Although freezer space may be limited in your door room, frozen fruit is an item you should definitely make space for. Frozen fruit is flash-frozen at the peak of ripeness so it maintains a high nutrient content. Frozen fruit makes a great addition to oatmeal, breakfast cereal, Greek yogurt, and smoothies.
Fruit Cups and Applesauce – Convenient College Dorm Food
If you enjoy fruit cups, they can make a great college dorm room snack or addition to your meal. When purchasing fruit cups make sure to select fruit that is in 100% juice or natural juices. This is a healthier choice than fruit packed in syrup or mixed with gelatin, which contain added sugar.
Applesauce is a convenient item to keep in your dorm to have with lunch or for a pre-workout snack. The GoGO squeeZ® applesauce squeeze pouches contain ~15 grams of carbohydrates per original-size pouch. The pouches are extremely convenient to thrown into your bag and eat on-the-go.

#5 Vegetables
Fresh Vegetables
Fresh vegetables make nutritious snacks and additions to meals. Items such as baby carrots, cherry tomatoes, cucumber slices, mini peppers, celery, and sugar snap peas are all great options. Enjoy the vegetables plain or dipped in hummus.
Frozen Vegetables
Similar to frozen fruit, frozen vegetables make for a healthy addition to dorm room meals. Frozen vegetables can be steamed in the microwave in minutes making a nutritious side dish.
For the healthiest option, look for plain frozen vegetables that do not have added sauces. To save time you can purchase vegetables that steam directly in the bag when microwaved. Just use caution not to burn yourself on the steam when opening the bag.
#6 Hummus
Hummus is a nutritious, plant-based food that makes a delicious dip or spread. Hummus is made with chickpeas, which provide carbohydrates, fiber, protein, vitamins, and minerals.
The individual, single serving size containers of hummus, such as those from Sabra®, are perfect for the dorm room. Keep in mind that when hummus is purchased from the refrigerated section of the store, it needs to be kept refrigerated in your dorm room as well.
#7 Whole Grain Breakfast Cereal
Keep whole grain breakfast cereal available for a quick breakfast or to enjoy dry as a snack. When selecting a cereal, look for those made with whole grains, that provide a good source of carbohydrates and dietary fiber, and contain limited added sweeteners.
Many breakfast cereals are fortified with vitamins and minerals, which can help you meet your daily nutrient needs. To further boost the nutrient content of your breakfast cereal, add in dried fruit and nuts.
Some great breakfast cereal options to keep in your dorm room include:
Kashi Go® Crunch – Made with whole grains and sesame seeds, this cereal makes a great substitute for granola. A ¾ cup serving provides 28 grams of carbohydrates, 9 grams of fiber, and 9 grams of protein. Kashi Go® Honey Almond Flax Crunch is another great option, with the added benefit of containing flax seeds.
Quaker® Oatmeal Squares – A whole grain breakfast cereal that is delicious dry or with milk. Each 1 cup serving provides 44 grams of carbohydrates, 5 grams of fiber, and 6 grams of protein.
Kellogg's® Special K® Protein Cereal – Great cereal option to help you start the day with carbohydrates and protein. Each 1 1/3 cup serving provides 39 grams of carbohydrates, 5 grams of fiber, and 15 grams of protein.
#8 Bars – Great On-the-Go College Dorm Food
Definitely make sure you keep some of your favorite granola, breakfast, and sports bars available in your dorm room. Bars are great to have for breakfast on-the-go, an afternoon snack, or to throw into your bag to have before your workout. Choose granola bars that are made with whole grains and contain limited added sugars. Some great options include KIND® Breakfast Bars, Nature's Bakery® Fig Bars, and Kate's® Real Food Bars.
#9 Trail Mix
Trail mix made with assorted nuts and dried fruit is a great snack item to keep in your dorm room. Increase the carbohydrate content of your trail mix by adding in your own dry breakfast cereal and pretzels. Take time to pre-pack snack size bags with trail mix so you can grab a bag as you head to class.
#10 Microwavable Quinoa and Rice
Microwaveable quinoa and rice pouches are an easy way to make a quick side dish containing carbohydrates, fiber, and protein. Seeds of ChangeTM have a variety of microwavable grain products available. Keep these on hand for when you need a quick side option to add to your dorm room meal.
#11 Whole Grain Bread Products
Keep whole grain bread, bagels, flatbread, and tortillas in your dorm room to make a quick sandwich or wrap. Carbohydrates provide the body with the energy needed to perform at its best. Having whole grain carbohydrates available in your dorm can help set you up for sports nutrition success.
Dave's Killer Bread® has a wide variety of whole grain bread products including sandwich bread, breakfast bread, bagels, and English muffins.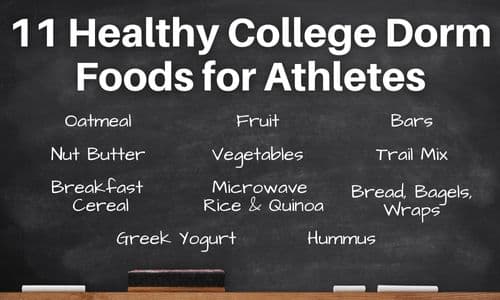 Ready for Back to School with Healthy College Dorm Foods
You are now set with a list of food items to buy to stock your college dorm. If you are an athlete following a gluten-free or vegan diet, make sure to check-out my recent blogs for additional ideas on foods items to help fuel your workouts.
For a customized sports nutrition meal plan meet with a Registered Dietitian to help develop a performance diet to meet your specific needs.
Submit your e-mail address below to sign-up for the Nutrition By Mandy e-mail list.