Easy Hotel Room Food Ideas for Athletes
When athletes travel for competition, it can be helpful to have ideas for food that can be easily prepared and eaten in the hotel room. Knowing in advance what food items to shop for can help set athletes up for sports nutrition success on their trip.
Let's take a look at steps you can take ahead of time to plan for your trip. Then we will examine hotel room food ideas that can help athletes meet their sports nutrition needs.
Plan Ahead for Your Trip
Prior to leaving on your trip, there are several steps you can take to ensure you are prepared to meet your nutrition needs during your hotel stay. First, consider how you will be traveling to the hotel. Will you be driving yourself in a car? Will you travel by bus or airplane with the team? Your mode of transportation will impact the type of snacks you can pack in advance to take with you on your trip.
Second, find out if your hotel room is equipped with a mini-fridge and microwave. Many times, this information is available on the hotel's website. If you are unsure, you can also call the hotel directly to confirm what is available.
If a refrigerator and microwave are not available in your guest room, enquire if the hotel can provide a mini-fridge for your room during the stay. You can also ask if there is a microwave available elsewhere in the hotel that guests have access to use. Knowing this information can help you determine the type of food you can plan to prepare during your hotel stay.
Research Area Grocery Stores and Restaurants
Third, research what grocery stores are located in close vicinity to the hotel. Will it be possible for you to walk to a nearby store to buy groceries for your room? If not, can you use a third-party delivery service, such as Uber Eats or DoorDash, to have groceries delivered?
Also look into what restaurants are located close to the hotel. Are there restaurants nearby where you can get a healthy pre- or post-game meal? Review menu information and hours of operation on the restaurants' websites so you have a plan of action for game day.
Additional Items
Finally, consider what additional items you will need in your hotel room in order to enjoy your meals. For example, will you need utensils to prepare or eat your meals? How about plates, napkins, and bowls?
Also, don't forget about condiments you typically eat with your meal, such as: salt, pepper, hot sauce, mayonnaise, mustard, ketchup, honey, and jelly. Planning ahead to have these items available will make your hotel meals more enjoyable.

Breakfast: Hotel Room Food Ideas
Breakfast is often considered the meal of champions. Prior to a day of activity, eating a well-planned breakfast can provide you with the energy needed for the day ahead.
With your hotel room breakfast, aim to include a good source of carbohydrates, lean protein, as well as healthy unsaturated fats. Here are a variety of food ideas for breakfast in your hotel room.
Fresh and dried fruit
Instant oatmeal packets
Whole grain breakfast cereal
Bagels
Breakfast bars and fig bars
Nuts and nut butter
Avocados
Greek yogurt
Cottage cheese
Hard-boiled eggs
Low-fat milk
100% fruit juice
Let's take a look at a few of these breakfast items in more detail so you can shop and be prepared for your next trip.
Instant Oatmeal – Perfect Hotel Breakfast Food
Packages of instant oatmeal are perhaps one of the most convenient hotel breakfast foods you can pack. Oatmeal is a whole grain carbohydrate that provides fiber, vitamins, and minerals making it a great breakfast choice for athletes.
To further boost the nutrient content of your oatmeal, mix in a spoonful of nut butter, dried fruit, or slices of a banana. If you have milk available at the hotel, using milk to prepare the oatmeal will add protein, calcium, and Vitamin D.
However, if you don't have access to a microwave, you can always make the instant oatmeal with hot water. Many hotels have hot water available in the lobby with coffee in the mornings. You can even make the oatmeal in a coffee cup if no bowls are available.
You can also consider trying instant oatmeal packets that contain added protein, such as those made by Kodiak Cakes®. Each packet of the Kodiak Cakes® instant oatmeal provides 12 grams of protein and ~30 grams of carbohydrates. A bowl of protein instant oatmeal along with a piece of fresh fruit at breakfast is a great way to start the day.

Whole Grain Breakfast Cereal
Prior to the trip, pack individual serving size bags of breakfast cereal to enjoy at the hotel. You can enjoy the cereal with milk at breakfast or eat it dry as a snack later in the day.
Even if the hotel you are staying at has a continental breakfast, packing a whole grain breakfast cereal to enjoy is a good idea. Quaker® Oatmeal Squares, Kashi GO® Crunch, and Kellogg's® Special K® Protein Cereal are all great options to pack and take with you on the trip.
Bagels
Bagels are a great high-carbohydrate breakfast option for athletes. When possible, select a whole grain bagel for your breakfast. Use nut butter or sliced avocado as a topping on your bagel. These items contain healthy unsaturated fat and are a better option than cream cheese.
Breakfast Bars and Fig Bars
Breakfast bars and fig bars are great food items to pack and bring with you for your hotel stay. Choose carbohydrate-rich bars that are made with whole grains. Some great options include KIND® Breakfast Bars and Nature's Bakery® Fig Bars.
In the morning, pair your breakfast bars or fig bars with a source of protein, such as Greek yogurt or hard-boiled eggs. This makes for a quick and healthy hotel breakfast on-the-go.
Hard-Boiled Eggs
Hard-boiled eggs can make a great, protein-rich addition to your hotel breakfast. A large egg contains 6 grams of protein. In addition to protein, eggs contain choline, a nutrient that is important for cognitive function, as well as vitamins, minerals, and antioxidants1.
At the grocery store you can purchase hard-boiled eggs that are peeled and ready-to-eat. In your hotel room, make sure to store the hard-boiled eggs in the refrigerator, as they must be held cold until you are ready to enjoy them.
Hotel Food: Lunch and Dinner Ideas
Now that you have some ideas on hotel room food for breakfast, here are some ideas of what to plan for lunch and dinner at the hotel.
Microwave packets of quinoa or brown rice
Baked potatoes and sweet potatoes
Whole grain bread or wraps
Deli meat and shredded rotisserie chicken
Sliced low-fat cheese
Individual packages of tuna or salmon
Nut butter and jelly
Hummus
Canned chili with beans
Canned soup
Individually packaged salads
Fresh Vegetables: Baby carrots, mini sweet peppers, grape tomatoes, sugar snap peas
Let's examine a few of these food items in more detail so you are prepared to shop for your hotel stay.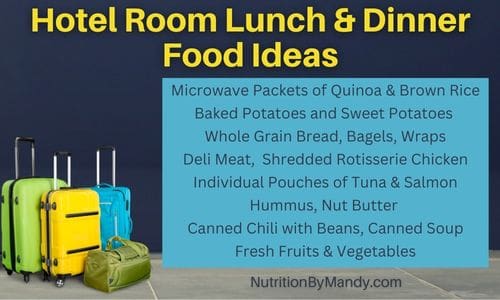 Baked Potatoes and Sweet Potatoes
When considering food to prepare in your hotel room, don't forget that potatoes can easily be prepared in the microwave. Baked potatoes are a great way to add carbohydrates, fiber, potassium, Vitamin C, along with other vitamins and minerals to your meal2. Sweet potatoes are an excellent source of Vitamin A, and also contain antioxidants and carotenoids (give sweet potatoes their orange color) making them a healthy choice for athletes.
When preparing potatoes in your hotel room microwave, don't forget to first scrub the outer skin to remove dirt. It is also important to poke holes in the potato with a fork prior to microwaving, which allows steam to escape when cooking.  Otherwise, the potato may explode in the microwave when you cook it.
Whole Grains
When selecting bread, bagels, wraps, and rice to enjoy with your hotel meals, focus on choosing whole grain items. Whole grains contain fiber, vitamins, and minerals, making them a healthy part of an athlete's sports nutrition meal plan.
When selecting whole grain items, read the package to ensure the product is 100% whole grain. As you read the ingredient list, the word "whole" should be listed as the first ingredient in the product, such as whole wheat, whole oat, or whole rye.
Deli Meat and Shredded Chicken
An easy way to add protein to your hotel meals is with deli meat or shredded rotisserie chicken from the store. When selecting deli meat choose healthier varieties, such as turkey, ham, or roast beef. If available, purchase deli meat that is sliced fresh for you at the store.
Many grocery stores sell individual containers of freshly shredded rotisserie chicken, which is a great hotel room food for athletes. Consider enjoying shredded chicken on top of a baked potato or salad. You can also make a meal by eating the shredded chicken with a side of microwavable brown rice and fresh veggies.
Packaged Tuna or Salmon
Single-serving pouches of tuna or salmon are a great way to add lean protein and healthy omega-3 fatty acids to your hotel meal. You can enjoy the tuna or salmon as a sandwich spread, topping on whole grain crackers, or high-protein topping on a salad with your meal.
When selecting tuna, albacore white tuna is a better source of omega-3s than chunk light tuna. In addition, choose tuna or salmon that is packed in water rather than oil. When the fish is packed in oil the product will be higher in saturated fat.
Canned Chili with Beans
Canned chili can be a great hotel room food for athletes. Choosing a chili that contains beans will increase the carbohydrate, fiber, and protein content of the chili. Consider trying Amy's® Organic Black Bean Chili, for a vegan chili option. One can of this chili provides 64 grams of carbohydrates and 19 grams of protein, making it an excellent meal option for athletes.
You can further increase the carbohydrate and nutrient content of your meal by using the canned chili as a topping on your potato. This is a great microwave-friendly meal that can easily be prepared in your hotel room.
Canned Soup
Similar to canned chili, soup can be an easy meal option for the hotel room. Choose a broth-based soup rather than a cream or cheese-based soup, as broth-based soups are lower in saturated fat. In addition, look for soups that contain noodles, rice, potatoes, or beans, which can be higher carbohydrate options.
For added carbohydrates and protein with your soup, consider cooking a microwaveable pouch of quinoa to enjoy as a side dish.
Hotel Room Snack Food Ideas
In addition to the food you bring for meals, don't forget to pack snack foods you can enjoy in the hotel room. Hotel room snack food ideas include:
Fresh fruit, dried fruit, fruit cups (in natural juices)
String cheese
Pretzels, pita chips, baked chips
Whole grain crackers
Trail mix, Nuts
Jerky
Granola bars
Note: Many of the options above contain sodium – including sodium in your meals and snacks can help replace the sodium lost in sweat during activity. Sodium also helps stimulate thirst3, which encourages athletes to drink and can help with meeting hydration goals.

Food Safety Considerations
During your hotel stay it is important to practice food safety. Storing food at the appropriate temperature is a critical aspect of food safety. Cold foods sch as deli meat, yogurt, cheese, and hard-boiled eggs, need to be stored in a refrigerator or cooler at 40°F or below.
If you do not have the means to store food cold, choose hotel food items that can be stored at room temperature instead. It is not worth the risk of getting a foodborne illness from food that has been left sitting out.
Leftovers
Leftover food items that you bring back to your hotel room from a restaurant must also be stored cold. According to the Centers for Disease Control and Prevention, leftover food items should be refrigerated within 2 hours of the meal. If the food is allowed to sit at room temperature longer than this time frame, throw the food away.
Of note – this applies to pizza too. Don't leave pizza sitting out overnight and then eat it for breakfast in the morning. If pizza sits out over two hours, throw the leftover pizza away.

Ready for Your Hotel Stay
You are now set with a variety of hotel room food ideas for your next trip. Make sure to plan ahead so you have the right foods available to ensure you are fueled to perform at your best throughout your trip.
For additional sports nutrition tips, check out my recent blog: Your Guide to Game Day Nutrition.
Click HERE to sign-up for the Nutrition By Mandy e-mail list.
About the Author
Mandy is a Sports Dietitian Nutritionist in the San Antonio, TX area. She is a Registered and Licensed Dietitian, a Board-Certified Specialist in Sports Dietetics, a Licensed Athletic Trainer, and is a Certified Exercise Physiologist through the American College of Sports Medicine. Mandy believes the key to reaching one's full potential, both in everyday life and in sports performance, relies on a healthy nutritional foundation. Learn more about the work Mandy does here.
References
Jäger, R., Kerksick, C. M., Campbell, B. I., Cribb, P. J., Wells, S. D., Skwiat, T. M., Purpura, M., Ziegenfuss, T. N., Ferrando, A. A., Arent, S. M., Smith-Ryan, A. E., Stout, J. R., Arciero, P. J., Ormsbee, M. J., Taylor, L. W., Wilborn, C. D., Kalman, D. S., Kreider, R. B., Willoughby, D. S., Hoffman, J. R., … Antonio, J. (2017). International Society of Sports Nutrition Position Stand: protein and exercise. Journal of the International Society of Sports Nutrition, 14, 20. https://doi.org/10.1186/s12970-017-0177-8
FoodData Central. (2020). Usda.gov. https://fdc.nal.usda.gov/fdc-app.html#/food-details/170030/nutrients
American College of Sports Medicine, Sawka, M. N., Burke, L. M., Eichner, E. R., Maughan, R. J., Montain, S. J., & Stachenfeld, N. S. (2007). American College of Sports Medicine position stand. Exercise and fluid replacement. Medicine and science in sports and exercise, 39(2), 377–390. https://doi.org/10.1249/mss.0b013e31802ca597