National Nutrition Month®2023: Tips for Athletes
During March we celebrate National Nutrition Month®. This month serves as a reminder of the importance of making informed food choices and developing positive eating and physical activity habits to promote a healthy lifestyle. The theme for National Nutrition Month® 2023 is "Fuel for the Future."
7 Tips for Athletes During National Nutrition Month® 2023
Let's take a look at seven ways athletes can make healthy choices this month to help achieve their sports nutrition goals and support their future health and well-being.
Tip #1: Plan Ahead
With busy practice, strength training, and school schedules it is important for athletes to plan meals and snacks in advance to help them meet their sports nutrition needs. During National Nutrition Month® 2023 consider making time to meal prep. Meal prep can not only save you valuable time during the week, it can also save you money and help decrease food waste.
When considering meal prep, remember you can start small and focus on a single meal or snack to prepare in advance. If you know you have morning practices, perhaps you want to focus on prepping breakfasts for the week. Conversely, if you have numerous evening games and practices, then consider prepping meals you can enjoy for dinner when you get home.
Tip #2: Eat Breakfast
Breakfast is commonly referred to as the "Meal of Champions." However, too often I find athletes skip breakfast in their rush to get out the door in the morning. If you find yourself commonly skipping breakfast, then commit during National Nutrition Month® 2023 to eat breakfast daily.
Remember, breakfast does not have to be a sit-down meal to be beneficial. I find breakfast-on-the-go works well for many athletes. Consider the following breakfast on-the-go ideas:
Greek Yogurt, Frozen Berries, Granola
Whole Grain Bagel, Peanut Butter, Banana, Low-Fat Milk
Hardboiled Eggs, English Muffin, Fresh Fruit
For additional ideas for planning a healthy breakfast, check-out my blog: 3 Keys to Building Healthy Breakfasts for Athletes.

Tip #3: Increase Your Intake of Fruits and Vegetables
National Nutrition Month® is an excellent time for athletes to focus on increasing the variety of fruits and vegetables included in their sports nutrition meal plan. Fruits and vegetables contain vitamins, minerals, phytochemicals, antioxidants, and fiber making them a healthy addition to your meals and snacks.
When purchasing fresh produce, look for fruits and vegetables that are in-season. When produce is in-season it will be more flavorful and less expensive than out-of-season produce.
Also consider keeping a variety of frozen fruits and vegetables on hand to enjoy throughout the month. Frozen produce is flash-frozen at the peak of ripeness; thus, it maintains a similar nutrition value to fresh.
Many frozen vegetables now come in microwavable bags, thus making steamed vegetables an easy, nutritious addition to your meals. Personally, I enjoy keeping frozen berries on hand to add to oatmeal, yogurt parfaits, and smoothies.
Tip #4: Spread Protein Throughout the Day
Athletes commonly recognize the need for protein in their diet to support the growth and maintenance of lean muscle mass. However, a key sports nutrition strategy I find many athletes are less aware of is the importance of spreading their protein intake throughout the day.
To get the most benefit from protein intake, athletes are encouraged to spread their protein intake throughout the day with meals and snacks1. In regard to the amount of protein to consume, protein recommendations for athletes are typically based upon the individual's body weight. In general, athletes should aim to consume ~ 0.25 grams of protein/kg body weight at several meals and snacks throughout the day. This calculates to be in the range of 20-40 grams of protein for most athletes1; with larger athletes needing more protein than smaller athletes.
I find athletes often do well with protein intake at their evening meal, but tend to consume less protein with breakfast and lunch. If this is an area you struggle with, consider making protein intake an area to focus on this month.
Tip #5: Focus on Hydration
Hydration is important for athletes to support both general health and sports performance. Even mild dehydration can negatively impact cognitive function and aerobic sports performance. As dehydration becomes more severe, further decreases in performance are seen. In addition, dehydration increases the risk of heat illness, especially when exercising in a hot and humid environment2.
Hydration needs of athletes vary greatly in regard to both the amount of fluid and electrolytes (namely sodium) lost in sweat. Therefore, having an individualized hydration plan for activity is important. Consider making time during National Nutrition Month® 2023 to focus on your hydration needs to support performance.

Tip #6: Get Adequate Sleep
Adequate sleep is important for athletes, to support performance as well as overall health and well-being. Unfortunately, sleep is often an area that gets neglected by many athletes. The American Academy of Sleep Medicine recommends individuals get the following amount of sleep each night3,4:
Youth 6-12 years old: 9-12 hours
Teenagers 13-18 years old: 8-10 hours
Adults: 7 hours or more
If you find you are regularly not getting adequate, quality sleep at night, consider focusing on improving your sleep habits this month.
Tip #7: Meet with a Sports Dietitian Nutritionist During National Nutrition Month® 2023
National Nutrition Month® 2023 is a great time to arrange an appointment to meet with a sports dietitian nutritionist. A sports dietitian nutritionist can assist you with developing a customized meal plan to help you meet your nutrition goals. In addition, a sports dietitian nutritionist can provide guidance on supplements, help create an individualized hydration plan for performance, as well as work with you on sports specific nutrition strategies to enhance performance.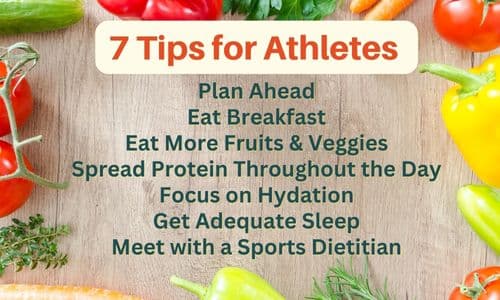 Ready for National Nutrition Month® 2023
You are now set with 7 ways to make healthy choices to support your sports nutrition goals, health, and overall well-being during National Nutrition Month® 2023. I encourage you to pick an area to focus on and set goals for progress throughout the month.
To learn more about National Nutrition Month® 2023, visit the Academy of Nutrition and Dietetics website. For additional sports nutrition tips, check out my blog: 9 Essential Items for an Athlete's Grocery List.
About the Author
Mandy is a Sports Dietitian Nutritionist in the San Antonio, TX area. She is a Registered and Licensed Dietitian, a Board-Certified Specialist in Sports Dietetics, a Licensed Athletic Trainer, and is a Certified Exercise Physiologist through the American College of Sports Medicine. Mandy believes the key to reaching one's full potential, both in everyday life and in sports performance, relies on a healthy nutritional foundation. Learn more about the work Mandy does here.
References