Food to Buy on a Budget: Tips for Athletes
With the rising costs of food, it can be helpful for athletes to know the best food to buy on a budget. Let's take a look at steps athletes should take prior to shopping. Then we will explore tips to help athletes save money at the store.
Preparing to Grocery Shop
Prior to shopping, athletes should take time to review their schedules for the upcoming week to determine food needs. Consider if there are morning practices that require planning breakfast on-the-go. Also look at evening commitments and the time available to prepare dinner at home. If athletes desire to meal prep food for the upcoming week, identify which meals and the items needed.
Once athletes have a clear picture of their schedules for the upcoming week, it is time to make a grocery list for the store. Having a list can help athletes avoid impulse buys at the store. It can also save athletes time during the week, preventing them from having to make multiple trips to the store.

Food to Buy on a Budget: Tips for Athletes
Once athletes are ready to shop, there are several general tips that can help them with buying food on a budget.
Comparison Shop
First, athletes should take time to comparison shop at the store. Store brand or generic items are often less expensive than name brand products, but are of similar nutritional quality. When looking at items, compare the nutrition facts labels, as well as the price, with the store brand equivalent. Many times, athletes will find they can get a similar product for a reduced cost.
Buy in Bulk
When possible, purchase items in bulk packaging rather than single-serving bags. When athletes buy individual serving-size bags, they are generally paying for the additional packaging, not additional product. When athletes get home from the store, they can individually portion servings into small containers.
Stick to the Grocery List
While shopping, athletes should try to avoid impulse purchases for items that are not on their grocery lists. It can be easy to go over your grocery budget when items are added to the cart that you were not initially shopping for.
Be especially mindful when you are in the check-out line to avoid impulse purchases of candy, chips, and magazines. Items are strategically placed there in the hopes that customers will be tempted to buy them on the way out of the store.

Foods to Buy on a Budget: Ready to Shop
Let's now take a look at ways athletes can save money throughout the grocery store.
Food to Buy on a Budget: Produce
Consuming fruits and vegetables is important for athletes. Fruits and vegetables provide fiber, vitamins, minerals, antioxidants, and phytochemicals.
Buying Fresh Produce on a Budget
Tips to help athletes with purchasing fresh produce on a budget include the following ideas.
Buy In-Season Produce
Purchase fresh produce that is in-season. Produce that is in-season will be more flavorful and less expensive than produce that is out-of-season. The United States Department of Agriculture has a Seasonal Produce Guide that is a helpful reference for determining fruits and vegetables that are grown each season.
Watch How Much Produce You Purchase
Only purchase the amount of produce you can reasonably use within the week, before it goes bad. Avoid purchasing too much fresh produce and having to throw it out at the end of the week.
Chop Fresh Produce Yourself
Buy whole, fresh fruits and vegetables and chop them yourself. Purchasing fresh produce that has been pre-sliced is costly, as you have to pay for the labor associated with the task. Athletes can save money at the store by buying the whole watermelon, stalks of broccoli, or bunches of celery and chopping the produce themselves.
Buying Frozen Produce on a Budget
For those fruits and vegetables that are out-of-season, consider purchasing frozen. Frozen produce is flash-frozen at the peak of ripeness; thus, it retains a nutrient value similar to that of fresh. Frozen produce can also help prevent food waste, as you do not have to worry about eating it all within the week.
Tips for buying frozen produce include:
Look for vegetables frozen without any added sauces or seasonings. It is best to purchase plain, frozen vegetables and season them yourself when preparing.
Save money by purchasing a large bag of frozen fruit or vegetables rather than small, individual serving size bags.

Food to Buy on a Budget: Canned Food
Canned food can be a healthy alternative, especially for items such as beans, chili, soups, and canned fruit. Canned beans can be an easy way to add carbohydrates, fiber, and protein to your meal. Choose a variety of beans to enjoy as a side dish, include in a burrito bowl, mix into chili or add as a topping on a salad.
Canned Chili and Soup
When purchasing canned chili, choosing a chili that contains beans will increase the carbohydrate, fiber, and protein content of the chili. Topping a baked potato or sweet potato with canned chili can be a quick, inexpensive weeknight meal.
When it comes to canned soup, select a broth-based soup rather than a cream or cheese-based soup. A broth-based soup will be lower in saturated fat and a healthier option. Consider making a side of quinoa or brown rice to stir into your canned soup to boost the nutrient content of the meal.
Canned Fruit
When buying canned fruit, look for fruit that is packed in natural juices, rather than heavy syrup, for a healthier option. In addition to canned fruit, don't forget about applesauce. Applesauce can be an easy way to add carbohydrates to your sports nutrition meal plan. It can also be an inexpensive snack to enjoy prior to a workout for a quick source of energy.
Food to Buy on a Budget: Pasta, Rice, Cereal, and Bread
Grains can be a great food for athletes to buy on a budget. When selecting grain-based items, focus on choosing products made with whole grains. Whole grains contain fiber, vitamins, and minerals, making them a healthy part of an athlete's sports nutrition meal plan.
It is important to read the package to ensure the product is 100% whole grain. As you read the ingredient list, the word "whole" should be listed as the first ingredient in the product, such as whole wheat, whole oat, or whole rye.
To save money, look for store-brand options for your favorite grain-based items, including:
Bread, bagels, tortillas
Breakfast cereal, granola bars
Crackers, pretzels
Pasta, rice, quinoa
In addition, it will be less expensive to purchase a large bag of uncooked grains rather than smaller bags or individual heat-and-serve packages.
Food to Buy on a Budget: Dairy
When buying dairy items, such as milk, yogurt, and cottage cheese, it is less expensive to buy a large container of the product than individual portions. Also, remember when purchasing dairy items to always check the product's expiration date. Be mindful to only purchase the amount you can reasonably consume prior to the item going bad.
Food to Buy on a Budget: Protein
When purchasing fresh beef, pork, poultry, and seafood, consider buying large packages and freezing what you will not eat during the week. According to the United States Department of Agriculture, proteins will retain their quality in the freezer for the following lengths of time:
Meat – uncooked roasts, steaks, or chops: 4-12 months
Meat – uncooked ground meat 3-4 months
Poultry – uncooked, whole: 12 months
Poultry – uncooked pieces: 9 months

Canned Seafood
Buying fresh seafood can be costly. Keep an eye out for in-store specials on seafood to purchase and freeze to enjoy at a later time. Frozen seafood is also a good option and is generally lower in cost than fresh.
Canned tuna and salmon are another great way to add seafood to an athlete's meal plan at a lower cost. When selecting tuna, albacore white tuna is a better source of omega-3s than chunk light tuna. In addition, choose tuna or salmon that is packed in water rather than oil. When the fish is packed in oil the product will be higher in saturated fat.
Nut Butters
Nut butter is an easy way for athletes to add healthy fats and protein to their sports nutrition meal plan. When purchasing a nut butter, look for a variety that contains limited added ingredients. To save money, it will be less expensive to buy a large container of nut butter rather than individual servings.
Additional Money Saving Tips for Shopping on a Budget
Now that you have ideas for buying food on a budget, let's take a look at some additional tips for saving money at the store.

Household Items
Athletes can save money at the store by purchasing household items in advance when they are on sale. This includes items such as shampoo, toothpaste, toilet paper, paper towels, and laundry detergent.
Buying the items in bulk will also save athletes money. As a reminder though, athletes should only buy these items in advance if they have room to store them at their house.
Limit Shopping for Food at Convenience Stores
Athletes should plan to do the majority of their shopping for food at either a grocery store or food warehouse store (i.e., Costco, Sam's). Limit the amount of food shopping done at gas stations, convenience stores, or pharmacies. Stores that do not focus on selling food will be more expensive than retail grocery stores.
Use Coupons and Money Saving Apps
Another way to save money at the store is with coupons and money saving apps. When using coupons, still take time to compare the item you are purchasing with store brand items. Even with the coupon, the store brand item may be less expensive.
Many stores now have smart-phone apps with digital coupons that provide instant savings at the checkout. In addition, there are smart-phone apps that will provide individuals with cash back or discounts for uploading pictures of grocery receipts.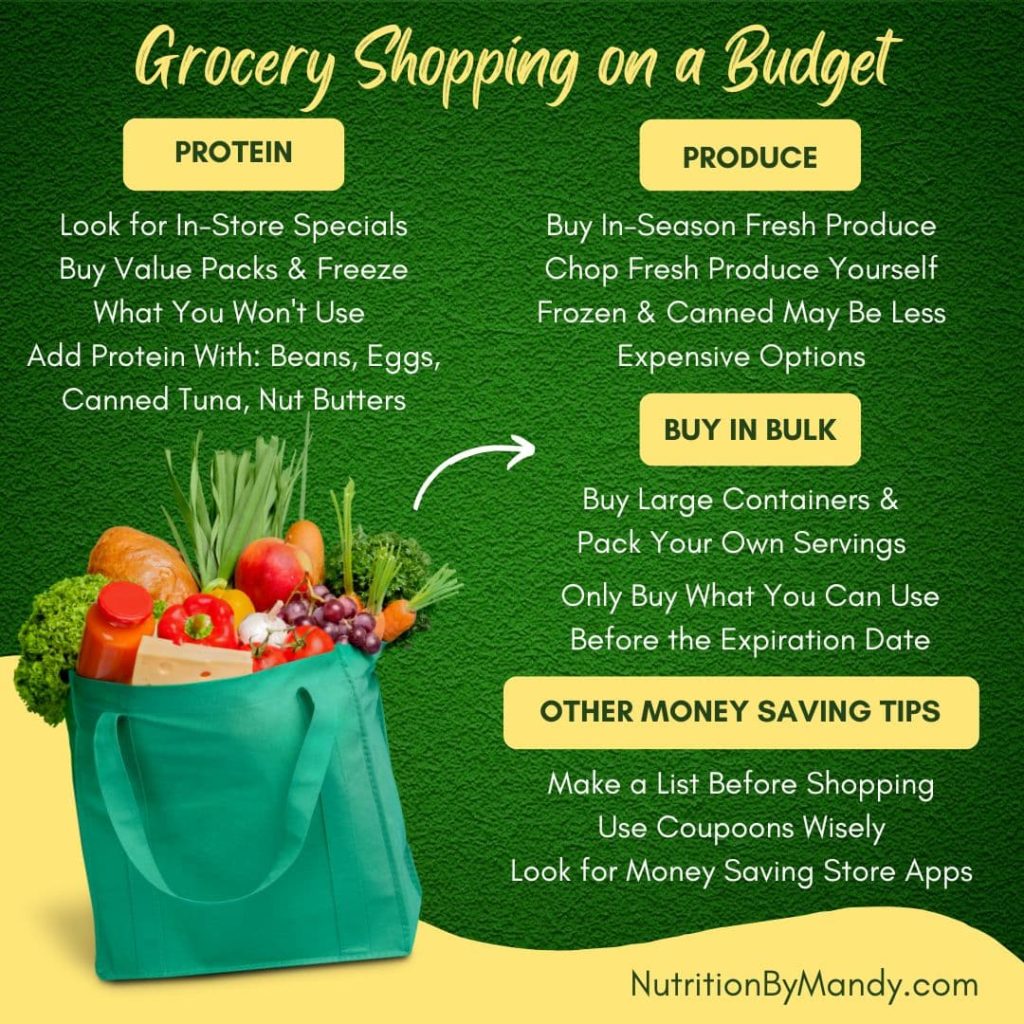 Food to Buy on a Budget: Tips for Athletes
You are now set with a variety of ideas for food to buy on a budget. Remember to plan ahead, make a list, and comparison shop when you are at the store.
For additional sports nutrition tips for athletes, check out my blog: 5 Keys to Building the Ideal Athlete Meal Plan.
Join the Nutrition By Mandy Email List & Get a Free Athlete's Grocery List
Click HERE to join the Nutrition By Mandy e-mail list. When you join you will receive a free athlete's grocery list to print and take with you to the store.
About the Author
Mandy is a Sports Dietitian Nutritionist in the San Antonio, TX area. She is a Registered and Licensed Dietitian, a Board-Certified Specialist in Sports Dietetics, a Licensed Athletic Trainer, and is a Certified Exercise Physiologist through the American College of Sports Medicine. Mandy has experience working with athletes at the high school, collegiate, and professional levels. She believes the key to reaching one's full potential, both in everyday life and in sports performance, relies on a healthy nutritional foundation. Learn more about the work Mandy does here.