Easy High-Protein Snacks for Picky Eaters: Ideas for Athletes
For athletes who are picky eaters, snacks can be an ideal way to help boost the protein content of their diet. Let's take a look at a variety of high-protein snacks for picky eaters, which can help support their health and performance needs.
Protein Needs for Adolescent Athletes
Protein has many important roles in the body of child and adolescent athletes. It is necessary for the transportation of oxygen and other molecules throughout the body.
Protein also act as enzymes which create chemical reactions, serve as antibodies that support a healthy immune system, and are necessary for the building and repair of lean muscle mass (1).
To get the most benefit out of protein intake, athletes are encouraged to spread their protein consumption throughout the day (2). Thus, high-protein snacks can be an excellent way to support athletes who are picky eaters with meeting their protein needs.

Plan High-Protein Snacks for the Week
On the weekend, take time to plan high-protein snacks your child can enjoy throughout the week. Involve your child in the planning, shopping, and preparation of the snacks, as this can hep increase ownership and acceptance of the snacks planned.
Consider meal prepping snacks in advance so they are ready to be enjoyed on busy weekdays. Easy meal prep tasks that can be done in advance include:
Individually package bags of trail mix, pretzels, and dry breakfast cereal
Hard-boil eggs
Wash and chop fresh produce
Create snack baskets in your pantry and fridge where your child can easily grab nutritious snacks to enjoy during the day.
High-Protein Snacks for Picky Eaters
In my previous blog, high-protein foods for picky eaters, we reviewed a variety of food items that can be added to an athlete's meals and snacks. In this blog we will focus on putting these suggestions together to create high-protein snack ideas for picky eaters.
Fruit Smoothie: Nutritious, High-Protein Snack for Picky Eaters
A fruit smoothie can be a nutrient-rich, high-protein snack for picky eaters. There are numerous ways that protein can be added to a smoothie.  Consider the following ideas:
High-protein, ultra-filtered milk
Greek yogurt
Cottage cheese
Dry milk
Silken tofu
Nut butter
In addition to protein, a smoothie, made with a variety of frozen fruits and leafy greens, is an easy way to add vitamins, minerals, and antioxidants to an athlete's meal plan.
Trail Mix
Trail mix is another great way to add protein to a picky eater's snack. Consider making a "build-your-own trail mix" in which your child selects the ingredients included in the mix. Allowing your child to have a choice of ingredients is a great way to help increase acceptance of the snack.
Trail mix ingredient ideas include:
Nuts: Almonds, peanuts, cashews, macadamia nuts, walnuts, pecans
Seeds: Sunflower, pumpkin
Whole grain breakfast cereals: Quaker® Oatmeal Squares, ChexTM, CheeriosTM
Pretzels, pita chips, animal crackers, snack crackers
Dried Fruits: Raisins, cranberries, pineapple, mango, papaya
For added sweetness, include a few dark chocolate chips
High-Protein Dips and Spreads for Picky Eaters
Another way to boost the protein content of a snack for picky eaters is with the use of high-protein dips and spreads. Pair the dip/spread with whole grain crackers, pretzels, pita chips, fresh veggies, or sliced fruit.
Ideas for high-protein dips and spreads include:
Greek yogurt dip*
Greek yogurt guacamole*
Hummus
Low-fat bean dip
Nut butter
*Check out my blog on 5 Great Uses for Greek Yogurt for tips on creating Greek yogurt dip and guacamole.

High-Protein Snack Combo for Picky Eaters
To create snacks that are well balanced and contain the nutrients child and adolescent athletes need for health and performance consider creating snack combos.
When creating a snack combo, pair together a food providing a lean source of protein with a carbohydrate-rich food item. Also consider adding fresh vegetables and healthy fats to the snack, which will provide additional vitamins, minerals, and antioxidants.
By keeping a variety of snack items on hand, your picky eater can create their own snack combos throughout the week. This allows your child to have choice in their snack, but also ensures they are getting in protein as well as other important nutrients.
Ideas for High-Protein Snack Combos for Picky Eaters
Below are ideas of items to keep on hand to create high-protein snack combinations with during the week. Many of the items listed below are handheld items, which are perfect for healthy snacks on-the-go.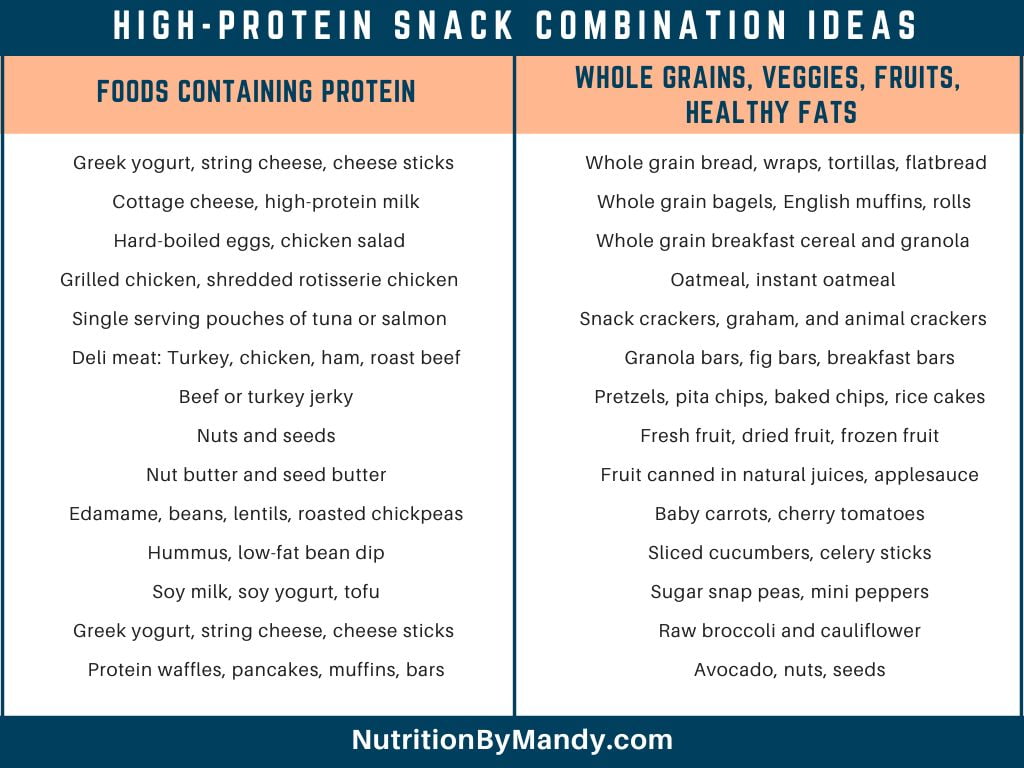 High-Protein Snack Combinations
Putting this all together, here are a variety of snack combo ideas for picky eaters.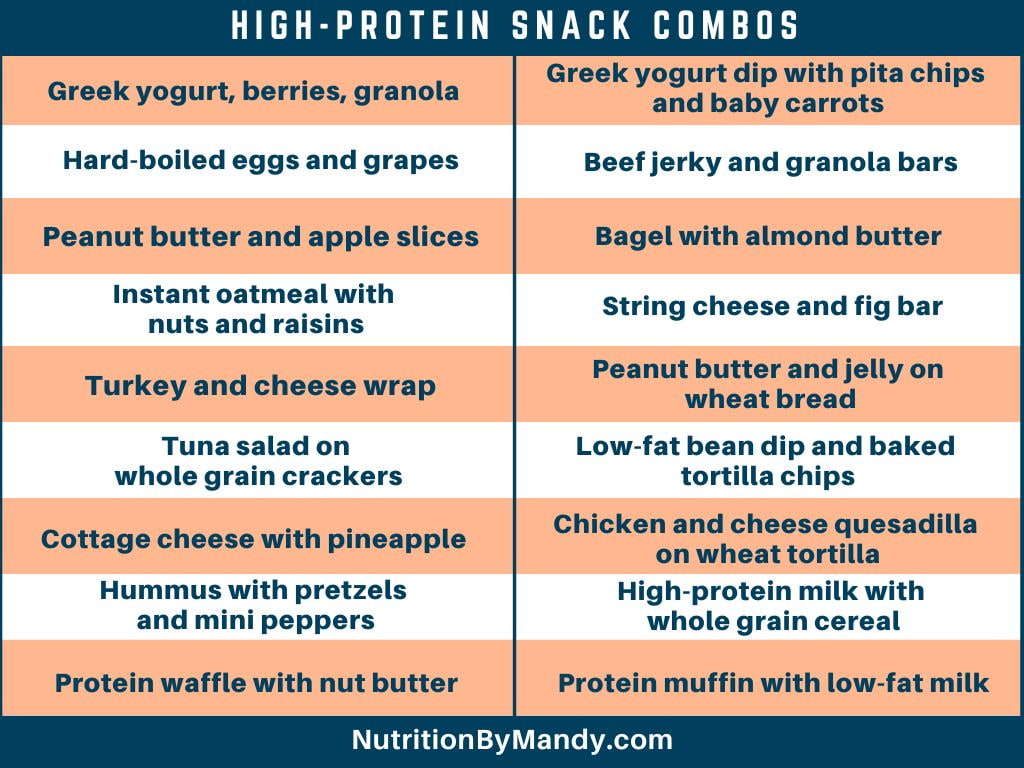 Easy High-Protein Snacks for Picky Eaters: Tips for Athletes
You are now set with a variety of high-protein snack ideas for picky eaters. Remember to plan ahead so there is an assortment of nutritious snack options available to keep your child fueled all week long.
For additional sports nutrition tips, check out my blog After Game Snack Ideas for Youth Sports.
Join the Nutrition By Mandy Email List & Get a Free Athlete's Grocery List
Click HERE to join the Nutrition By Mandy e-mail list. When you join you will receive a free athlete's grocery list to print and take with you to the store.
About Mandy
Mandy is a Sports Dietitian Nutritionist in the San Antonio, TX area. She is a Registered and Licensed Dietitian, a Board-Certified Specialist in Sports Dietetics, a Licensed Athletic Trainer, and is a Certified Exercise Physiologist through the American College of Sports Medicine.  Mandy has experience working with athletes at the high school, collegiate, and professional levels. She believes the key to reaching one's full potential, both in everyday life and in sports performance, relies on a healthy nutritional foundation. Learn more about the work Mandy does here.