As a Sports Dietitian, I frequently have the opportunity to take athletes on grocery store tours. During the tours, I teach athletes what foods to buy to fuel their bodies for performance, items to keep on hand to prepare quick meals and snacks, and tips for saving money. Below are what I consider to be the Top 5 grocery items athletes should keep stocked in their pantry.
#1 Oatmeal
Making a bowl of oatmeal is a great way to start the day. Oatmeal is a great source of both carbohydrates and soluble fiber and contains vitamins, such as folate, and minerals, including iron and zinc. You can increase the protein content of your breakfast by making your oatmeal with milk and stirring in nuts or nut butters. Also try mixing in berries, dried fruit, and spices, such as cinnamon for added nutrients and a delicious flavor. If you have never tried overnight oats – check out the recipe on my website: Overnight Oatmeal – Nutrition by Mandy
#2 Nut Butter
Whether you prefer peanut butter, almond butter, or an allergen free SunButter product, keeping nut butter on hand can come to the rescue for a quick meal or snack on the go. Nut butters are a good source of healthy fats and contain protein, making them a great spread for a sandwich or topping for apple slices, celery, and crackers.
#3 Pasta and Sauce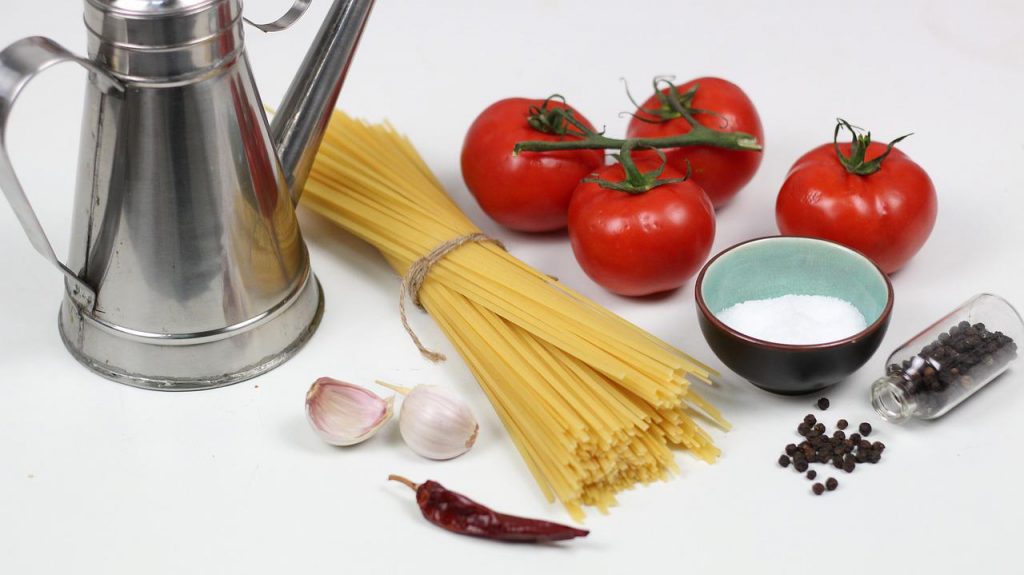 Keeping the ingredients on hand to make a quick spaghetti dinner is a smart move. For added nutrition, I recommend choosing a whole grain or chickpea pasta. Chickpea pasta has the added benefit of being a great source or protein in addition to carbohydrates. For your pasta sauce, choosing a tomato based marinara sauce is a healthier choice than an alfredo sauce. Once your pasta is made, you can top it with grilled chicken or Italian turkey meatballs, which are both great items to keep available in your freezer.
#4 Beans
Beans are a great source of protein, carbohydrates, and fiber. When you are preparing a meal and need a quick side dish, canned beans makes for a nutritious choice. Beans can also be easily added into soups, chili, and burrito bowls to increase the nutrient content of the meal. Try a variety of bean choices, including: black beans, kidney beans, chick peas, and cannellini beans. One of my personal favorite side dishes is a can of black beans mixed with a can of diced tomatoes and green chilis. Then add in some garlic powder, onion powder, and cumin – heat and enjoy!
#5 Granola Bars
Finally, consider keeping some of your favorite granola bars available in your pantry. Granola bars are great to have for breakfast on the go, an afternoon snack, or to throw into your gym bag for a pre-workout snack. I recommend choosing granola bars made with whole grains and with limited added sugars. Try dipping an oats & honey crunchy granola bar in your favorite nut butter for a sweet and salty snack – delicious and nutritious!
If you are looking for more grocery shopping ideas, download the Sports Nutrition Grocery List from NutritionByMandy on Etsy for suggestions on items to purchase in each section of the store.
Click Here to View the Sports Nutrition Grocery List in the NutritionBy Mandy Etsy Store.