Most people are familiar with the saying, "Breakfast is the Meal of Champions" – however, it seems a common obstacle many individuals face is taking time to start the day with breakfast. Whether it be due to an early morning workout, hitting snooze on the alarm clock one too many times, or just a hectic morning – it is not uncommon for individuals to forgo breakfast when the morning feels rushed.
Here are 3 easy steps to make breakfast part of your daily routine: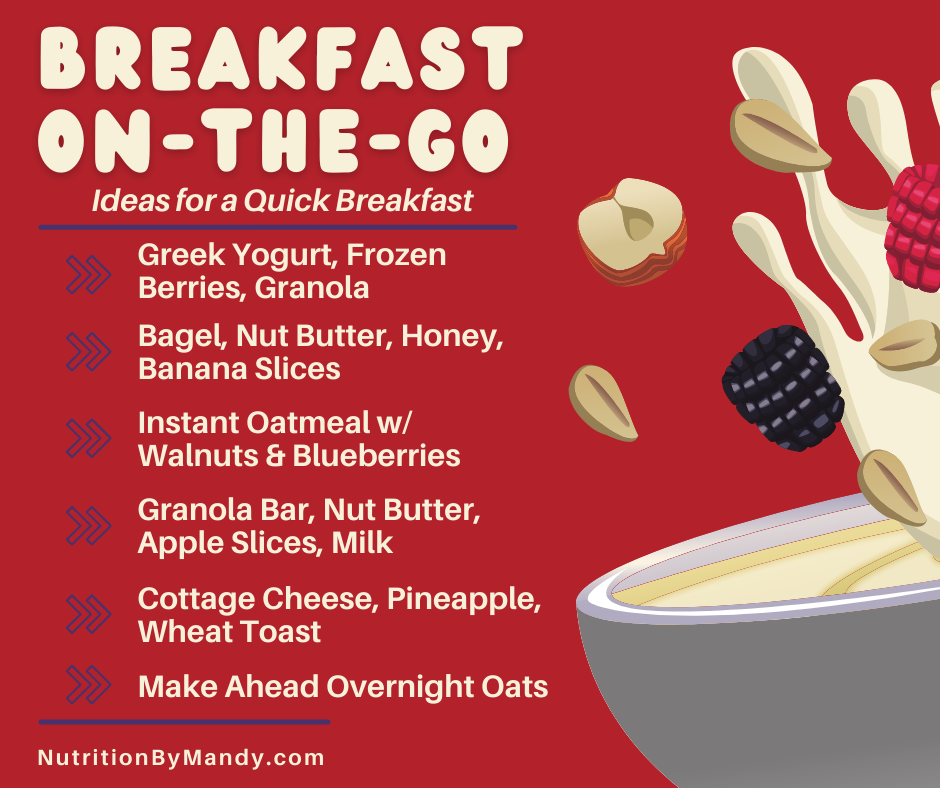 Plan ahead – Pack a grab-and-go breakfast the night before. Aim to include three food groups with your morning meal. Some examples include:

Greek Yogurt, Frozen Berries, Granola
Whole Wheat Toast, Peanut Butter, Banana
Hardboiled Eggs, English Muffin, Fresh Fruit
Overnight Oats – one of my favorites!

Think Non-Traditional – If you are not a fan of traditional breakfast foods, such as eggs, pancakes, or breakfast cereal, think outside the box. There is nothing wrong with a peanut butter and jelly or grilled cheese sandwich with a glass of milk to start the day.

If you prefer savory food, try avocado toast – this is a delicious and healthy way to start your day.

Try a Smoothie – Blending up a quick smoothie in the morning is a great way to get in calcium, protein, vitamins, and minerals. Try changing out the type of fruit, adding a handful of spinach or kale, and mixing in Greek Yogurt or cottage cheese for added protein. My secret to a delicious smoothie is frozen banana slices…adds just the perfect touch of creaminess to the drink.

If you do not have time to make a smoothie in the morning – you can prepare a batch of smoothies in advance and freeze in mason jars. The night before you want the smoothie, move it to the refrigerator and let it defrost overnight. In the morning, grab your smoothie on the way out the door and enjoy!
I hope these ideas help you find a way to start your day with breakfast. If you need more ideas, schedule an appointment so we can put together an individualized morning plan that works for you!